How good are Hot Cross Buns!?!?  What a treat!
These tiny spiced, sweet buns, usually made with fruit and marked with a cross on the top are surely one of the best parts of Easter.
Well, now you too can make them at home and enjoy these delicious bundles of goodness over the upcoming long weekend.
This recipe from Coach Steph is one not to disappoint!  How good do they look!
Ingredients
7 g dry yeast
250 ml any milk (cow's, soy, almond, coconut)
3 teaspoons maple syrup
2.5 tablespoons rice malt syrup
3 cups wholemeal spelt flour
1/2 cup raisins
1/4 cup currants
1/2 teaspoon salt
1.5 tablespoon coconut oil melted
1 teaspoon vanilla bean paste
1 orange zested & juiced
2 tablespoon wholemeal spelt flour for the crosses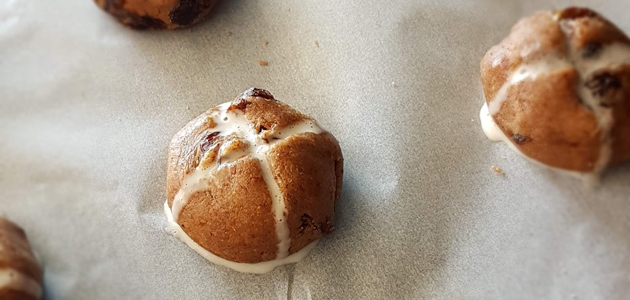 Instructions
Pour the almond milk to a small saucepan and warm over a low heat for 2 minutes.
Remove from the heat.
Whisk the yeast, milk and 2 teaspoons of maple syrup in a jug.
Set aside for 10 minutes or until frothy.
Combine the flour, raisins, currants, spices and salt in a large bowl.
Make a well in the centre of this dry mix.
Add the milk mixture.
Next add the vanilla, rice malt syrup, orange zest, 1 tablespoon of oil and 1.5 tablespoons orange juice.
Stir until combined.
Transfer to a lightly floured board and knead until smooth and elastic, approximately 5 minutes.
Grease a bowl with remaining oil and place dough into the bowl and cover with glad wrap. Set aside for 45 minutes or until doubled in size.
Line a baking tray with baking paper.
Flour your hands and transfer dough back to the board, gently kneading for a minute.
Shape into 12 buns and place onto prepared tray.
Cover with glad wrap and set aside in a warm place for a further 40 minutes or until doubled in size.
Preheat oven to 160°C.
Combine the remaining flour with water to form a smooth paste.
Place into a zip lock bag and cut 1 corner from the bag to make a piping bag and pipe crosses onto the buns.
Lightly brush with the additional maple syrup and bake for 30 minutes or until cooked through.