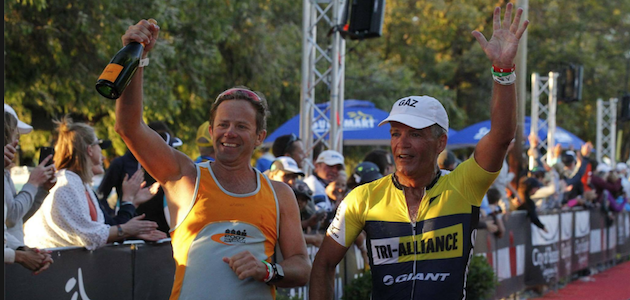 Gary Rosengarten, a seasoned Tri-Alliance Ironman competition took on his forth Ironman race up in Cairns in 2016 and we asked him to share his thoughts.
The conversation goes something like this.
"So are you coming to the football tomorrow?,"
"No I can't."
"Why not?"
"I'm training."
"It doesn't start 'till 2pm"
"Yeah I still can't.."
"What are you training for?"
I've been asked many times, "what is an Ironman?" and to be honest after now having done four, I truthfully don't have the whole answer.
But I know what it isn't.
It's not a 3.8km swim, 180km ride and a marathon, at least not entirely. It's much much more than that.
It's something that tests every aspect of your character, it's a trial of mind, body and soul, a measurement of your spirit and your courage, and a vehicle by which you can really begin to understand what you are made of.
So why am I writing this?
I suppose it's when I hear people say, "that's insane", or "that's not good for you", or "I could never do that", or "why would you want to do that?", that I want to reply and say, "until you've done one, or at least been close to someone who has done one, you'll never understand".
It's a funny thing among the Ironman community that you don't get asked, "have you done one?", its  "so how many have you done?" I don't know the stats on this but it seems to me that few people stop at doing one, and front up again and again. Surely this raises the question, "why would you want to put yourself through all that again"?
I think if you CAN swim, and CAN ride and CAN run……you CAN do an Ironman, but as I said earlier there's more to it than that. The first step of hitting the "Register" button on the website takes a good deal of courage, but once you do, you're in for the ride of your life.
So now you start training.
I haven't mentioned this yet but it's such a huge part of the whole experience. Among the many things it teaches you, and you'll hear this a lot among fellow Ironman competitors, is that you're just trying "to get to the start line". So when people ask you, "how's your training going?", or "how do you think you'll go?" or "will you go better this time?", this becomes your standard reply, and if you think about it, this little statement says it all.
The training is hideous, it's relentless and unforgiving and so much can go wrong along the way. Early mornings, late nights, endless fatigue, niggling injuries, serious injuries, illness, massage, physio……..
But if you're really lucky you have great people to share it with. This is one of the huge bonuses of doing an Ironman and on this most recent effort I have been lucky enough to have known and trained with Michelle, Jimmy, Brett, and Jane as well as Margs and Nick on occasions. It's kind of a "backs to the wall, " we're in this together" kind of thing where not much is verbalized, but volumes are understood.
Contemplating a weekend comprised of a 200km ride with 12km run and then 30+km run the next day is quite daunting, but knowing you won't be alone just seems to make it manageable.
On the big day itself to know these guys are out there even if you can't see them gives you strength.
So I say thanks to them all, the whole experience was enriched for having known, trained and competed with you, and I feel that Cairns 2016 will be an enduring bond (sorry Michelle) between us.
I have done a lot of racing and endurance events over the years, but there are only a handful where I have got to the start line and thought, "I wonder what will happen today, I wonder if I'll finish". My first marathon in 1988 (yes I'm nearly as old as Greg) , the "Baw Baw Classic", or the" Melbourne to Ballarat" spring to mind, but for each of my Ironman's I've had the same feeling. It's a bit like stepping into the unknown, and it takes guts to do it! You really don't know what's going to happen, but you know you're well prepared, and you know that if the Ironman knocks you down, you're going to damn well get up again and push on.
And so I sit here today, still in Cairns, with the race now two days behind me, reminiscing. Once again things didn't go as planned and I underperformed to a large extent. But I finished it, and I am happy with that. The Ironman continues to ask me questions that I still haven't been able to fully answer. I've come close and I   haven't let it defeat me. I will not give up and I fully intend to take up the challenge again.
So come on, take the plunge, if you haven't thought about it, go for it.
Be prepared though, cause the Ironman will ask questions of you, it's up to you what your response will be.
Gaz