In a triathlon, you spend the most amount of time on your bike. At Tri-Alliance, our Road Cycling Tips will help you better understand and adhere to cycling road rules and general bike etiquette when you're on a group ride with Tri-Alliance.
Bike Safety and Ethics
It is important to make yourself aware of road cycling rules, safety and ethics – particularly if you want to start riding in groups (referred to as 'packs'), which is what we do at Tri-Alliance.
"Cyclists have the same rights and responsibilities as other road users. Whatever vehicle you drive, the golden rule is to treat other road users with respect and courtesy. All road users should drive or ride safely and obey the traffic rules at all times. Click here to view Bicycle Network's overview of road rules.

When riding on roads involving traffic, other bikes and pedestrians, it is very important to have knowledge of the road rules and ways to decrease the chance of an accident. Even if you are following the law, it is still important to know what to look out for as others on the road might not be doing the right thing.
When cycling with Tri-Alliance organised group rides, it is paramount that you observe our cycling rules. This includes signalling by voice and by hand, and also extends to ensure you are riding two abreast in an orderly fashion (no half-wheeling or sitting too far off) unless you are in a single file.
Here are some tips to improve your safety on the road: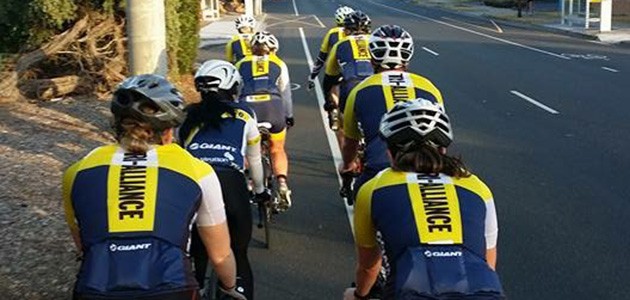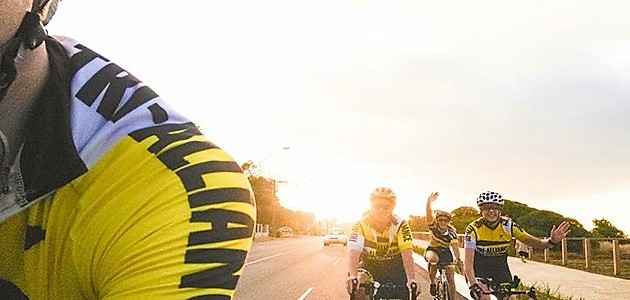 Bunch Riding and Cycling Etiquette
Weekend road rides form an important part of your winter training. These rides aim to improve your bike skills, endurance and strength. At the same time, safety is paramount to us and due to large numbers who attend our group rides we need to ensure every rider is aware of the procedures and etiquette of riding in a bunch.
Every rider has different skills and ability. A strong rider does not necessarily have strong bike handling skills or judgement on the road. So it is important that every rider learns the art of bunch riding to help ensure a safe riding environment for all riders.  Particularly on busy (and often dangerous) streets in and around Melbourne.
Becoming a proficient bunch rider takes time and experience to achieve. The key to a safe ride is to always be aware of the conditions we find ourselves in, and to react accordingly. Most important is consideration of the riders around us: what they are doing at any given time, and their level of skill. And of course we need to be continually aware of the road and traffic conditions.
It is also paramount that you do not present a safety risk to you group this includes;
Wearing prescription glasses or contacts if applicable
Cycling further out to the side than the rest of the bunch, causing an obstruction to other road users and your group
Cycling further back in the bunch (when you are not the last rider), causing other cyclists in your group to fall out of their orderly two-abreast ride.
Calling out road obstructions such as; "riders back", "car back", "car up", "lights up", "slowing", "stopping", "rolling", "single file", "clear", "pot hole", "glass" etc.
Pointing out road obstructions by using the correct hand signals that demonstrate the following; overtaking, rough surface, matter on the surface, turning left or right, single file, slowing etc.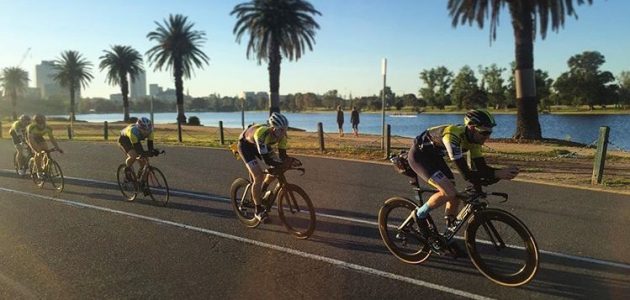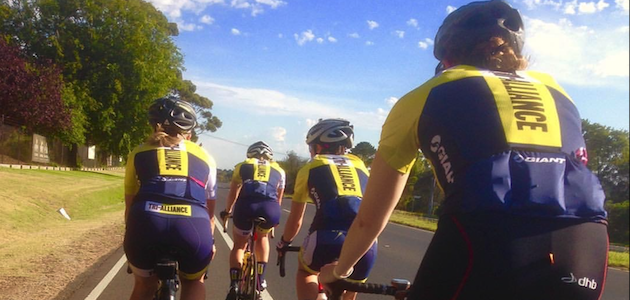 To improve your cycling, you want to train at least twice a week, cycling on the road.  This will allow you to train in different conditions, gain confidence on your bike and practise the skills taught by our coaches.
Tri-Alliance holds group rides on Thursday Morning for hot laps at Albert Park, rolling at 5.45am from MSAC as well as group rides departing from Elwood Lifesaving Club on Saturday and Sunday Mornings.