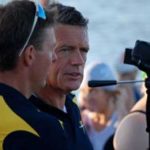 Where It All Began
Tri-Alliance formed over a beer at a post race function 17 years ago and today is the largest and most professional Triathlon Training Squad in Victoria (and arguably Australia)
2000 saw Tri-Alliance hold its first training session with 25 athletes at Windy Hill leisure Centre.
2001 Tri-Alliance started a high profile relationship with event management company SuperSprint (now SME360). We became the Official Coaching Partners of the Gatorade Series.
2004 Tri-Alliance is appointed the Official Coaches for the 'Community Triathlon Program' in conjunction with the Commonwealth Games.
2005 Tri-Alliance website was integrated with athletes using the 'Athlete Tool Kit'.
2009 Tri-Alliance relaunched with additions to its infrastructure including the 'TA Taj' – the now famous Race Day Athlete Marquee.
2010 Tri-Alliance celebrated its 10th season with SuperSprint as the official Coaching Partner for the Gatorade and Active Feet Triathlon Series.
2011 Tri-Alliance is now the largest Triathlon Squad in Melbourne (200+ Athletes), rolls out its new website and business model with new successful and initiative programs.
2012 Tri-Alliance Head Coach Ollie Allan records 8:54 in Ironman Melbourne, qualifying for the World Championships in Kona and being the 4th age grouper across the line.
2013 Tri-Alliance achieves a stellar year in The Gatorade Series with multiple podiums at each race through the year.
2014 Tri-Alliance produces five Ironman Kona qualifiers from its long course athlete contingent making it the best year yet.
2017 and beyond… Tri Alliance will continue to provide the best service and triathlon coaching to athletes in Melbourne and surrounding areas.