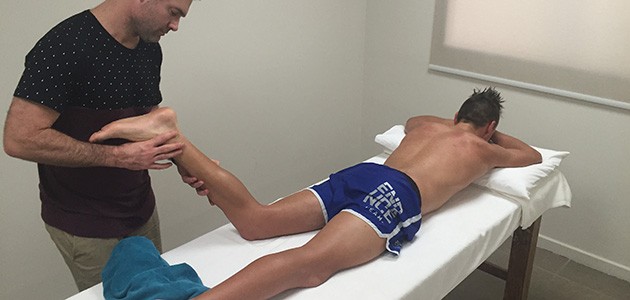 Looking after and maintaining your body while training and racing is an important part of your training program. Tri-Alliance works very closely with Lakeside Sports Medicine Centre to care for and look after the body management needs of all our athletes.
Body Management
Body management can be the difference between performing at your peak, and running your body into the ground. At Tri-Alliance, we encourage our athletes to listen to their bodies when it comes to training and recovery – and our partners Lakeside Sports Medicine Centre and Shotz Nutrition can help you stay on top of your fitness and help you reach your optimal performance.
Lakeside Sports Medicine Centre
Lakeside Sports Medicine Centre is conveniently located close to the CBD at the iconic Melbourne Sports and Aquatic Centre, part of Melbourne's first class Sports Hub on Aughtie Drive, Albert Park.
Our sports medicine clinic offers patients access to a multidisciplinary team of highly trained health professionals. Treating specialists are committed to providing quality sports medicine whether it be for the elite athlete or members of the general public.
We aim to provide our patients with a complete care plan utilizing the various modalities available at our clinic including Sports Medicine, Physiotherapy, Podiatry, Myotherapy, Dietetics and consulting Orthopedic Surgeons. With this multidisciplinary approach we aim to tailor our programs to suit the individual no matter the issue.
We regularly treat a range of conditions from acute sporting injuries to chronic pain symptoms as well as assisting patients with rehabilitation.
Lakeside Sports Medicine Centre is also involved in driving sports medicine research in the areas of tendinopathy and osteoarthritis management.
This ensures our clinicians look to develop treatment pathways that reflect the latest approaches in care, keeping us at the forefront of sports medicine in Melbourne.
Body Management Assessment
Winter is often the hardest time to stay on track with your training and over-indulging in comfort foods can easily occur if you don't have goals and incentives to remain on track. Keep your health, fitness and training on track over winter!
If any of your stepping stones to your goals include losing weight, reaching your 'race weight', eating better, improving your health and fitness and staying motivated, then our new Body Management Assessments are for you.
Body Management Assessment Breakdown
Shotz Sports Nutrition provide Tri-Alliance athletes with all their energy and hydration products.
Shotz is the brand of sports nutrition products respected by world-class athletes and active lifestyle enthusiasts at all levels and from all walks of life. To the consumer, the Shotz brand represents not only a lifestyle but superior product quality, the state-of-the-art in performance nutrition science, and an unparalleled level of customer care.
We are a sports nutrition company developing and manufacturing sports nutrition products that have a low sensory impact and are as gentle on the stomach as possible. All very important attributes for athletes wanting to perform at their best and not get held back by stomach issues.