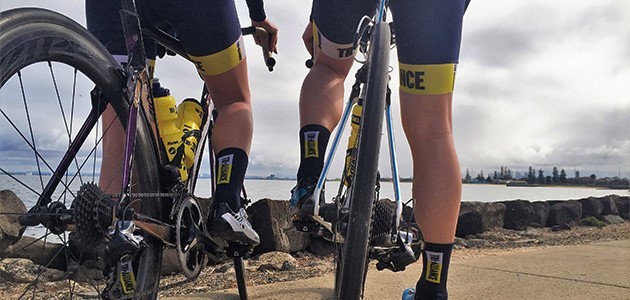 At Tri-Alliance, we believe 'triathlon is not just a sport, it's a lifestyle'.  We are an community of people who come together to achieve a common goal.  That goal individually is not too big, nor too small. We are a team that supports, nurtures, educates and provides direction for all triathletes. We encourage you to train and live with a positive, healthy and balanced outlook.
Our triathlon coaching programs specialise in developing beginners and experienced athletes in the disciplines of swimming, cycling, running and triathlon to reach goals from 5-10km fun runs, Sprint or Olympic Distance Triathlons to Half and Full Ironman and Marathon Distances.
TA Core Values
Well-being
Triathlon is a challenging sport, both physically and psychologically.  Not to mention that most triathletes are also busy people, juggling life, family, work, study, household and social commitments.  At Tri-Alliance we facilitate and offer guidance surrounding lifestyle choices and overall well-being, to ensure our athletes fulfil their lifestyle goals.
Education
At Tri-Alliance, we pride ourselves on providing our athletes with education to increase their training and racing experience. This enables our athletes to make the correct choices to get the most from their training and racing.
Belonging
Being a part of the Tri-Alliance community is rewarding. People of all ages and performance levels are made to feel welcome and are encouraged to reach their full potential. We are fully-inclusive and pride ourselves on our diverse group of athletes.
Accomplishment and Satisfaction
At Tri-Alliance, it's not necessarily about winning. Just finishing a triathlon is a vast achievement in our eyes. The dedication to train and make sacrifices gives an athlete a great sense of achievement come race day.
So whether your goal is to get fit, maintain a healthy lifestyle or reach your triathlon or multi-sports goals, Tri Alliance will provide you with the support, guidance, coaching and resources to help you reach your goals.