Pumped to get into Triathlon?
Our FREE Try the Tri program can help to smash your goal, just like these three ladies did after their Try the Tri with us!
Try the Tri includes:
6 weeks free program

5 coached sessions per week

40% off first race

up to 20% discount on Orca, On running, Garmin
Check out our program in action!
Get in contact for more information or BOOK NOW!
Hurry! Programs fill fast!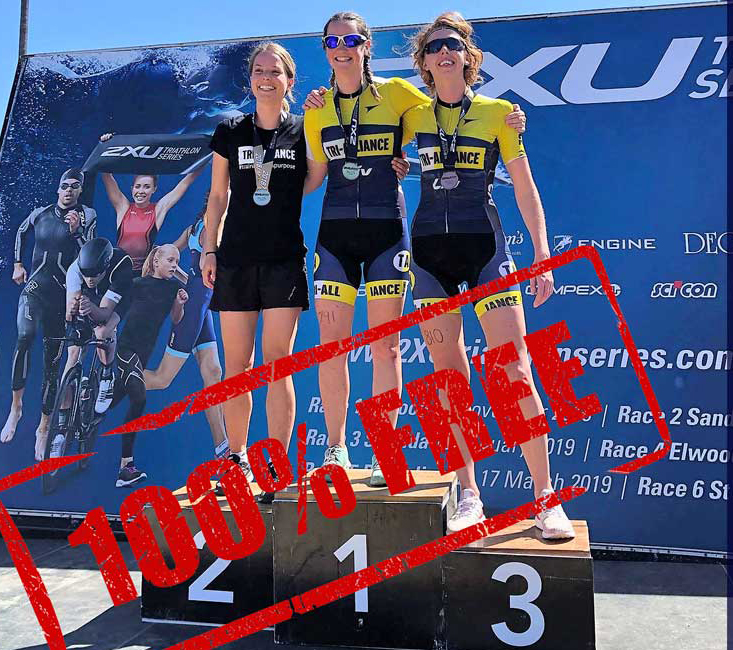 Take advantage of our FREE six-week triathlon program to get you race ready ahead of your first triathlon for the 2023/2024  season!
Tri-Alliance is well known for its beginner triathlon programs and due to its popularity, our Try the Tri program is back for another year! Our beginner triathlon training programs cover all aspects of triathlon training and provide you with a taste of the technique and skills to compete this coming season. So if you have been thinking about trying a triathlon, now is your chance to get a head start before the next race.
RACE 1 REGISTRATION CLOSED
Try the Tri 1 ELWOOD
21st October to 30th November 2023
RACE 1 REGISTRATION CLOSED
RACE 2 REGISTRATION CLOSED
Try the Tri 2 BRIGHTON
4th November to 14th December 2023
RACE 2 REGISTRATION CLOSED
With so many inclusions in our six-week Try the Tri program, it's no wonder why we are regarded as the best Triathlon Squad in Melbourne to offer beginner programs.
6 Week comprehensive program
Up to 5 coached sessions a week
Swim, bike and run technique and fitness
Open water swim technique and practice
Weekly tips and tricks and general training advice
Email contact with our coaches
Private chat group to connect with athletes and receive advice
Race transition setup and race tips
Pre-race course overview and transition walk through
FREE Race day Massage, BBQ and warm-up area at your race! (Covid-19 restrictions may apply)
40% Discount on race entry*
Up to 20% off Orca wetsuits, Garmin, On running
HURRY PROGRAMS FILL FAST!
*Must complete 75% of your Try the Tri program to be eligible for race discount
*Participants can not have participated in a previous Try the Tri program to be eligible for free program
Choose the dates that suit you!
Register for one of the above Free Try the Tri program quicker than you can say 'racing!'  You'll receive a huge amount of support both from our coaches and partners:
| | | | | | | |
| --- | --- | --- | --- | --- | --- | --- |
| | Program #1 | Program #2 | Program #3 | Program #4 | Program #5 | Program #6 |
| Start Date | 21/10/2023 | 4/11/2023 | 9/12/2023 | 6/01/2024 | 27/01/2024 | 17/02/2024 |
| End Date | 30/11/2023 | 14/12/2023 | 18/01/2024 | 15/02/2024 | 7/03/2024 | 28/03/2024 |
| Race Day | 26/11/2023 | 10/12/2023 | 14/01/2024 | 11/02/2024 | 3/03/2024 | 24/03/2024 |
We have a number of locations and times that we hold our sessions – Elwood and CBD. So choose which sessions suit you! Each session will help you develop fitness, confidence and learn all the triathlon skills you need to know.
Tuesday
6.00am Run Session, at Albert Park Lake
6.00pm Indoor Bike Session, live online
Thursday
6.30pm Combo Session (open water swim+bike+run), at Elwood Beach
Saturday
9.30am Combo Session (open water swim+bike+run), at Elwood Beach
Sunday
7am Long Swim Session and/or
8am Long Run Session, from Elwood Beach*
* must be confident/competent (restricted availability)
OR Active Recovery/Day Off
*Full session details will be sent once you join the program. 
COST: FREE Training and 40% off your race entry fee to the 2XU Sprint or FUN Tri Race.
Don't be fooled into thinking you need to spend huge amounts of money to get started in triathlon. In fact, starting out is the very opposite. At Tri-Alliance, all you'll need is a positive attitude, and any type of bike (preferably one with two wheels and that's safe to ride on!).
SWIM:
Goggles and swimmers will do just fine. If you have an wetsuit, bring that along too.
BIKE:
Helmet and a bicycle of any make, model or design is fine. Don't forget to bring along your runners and bike shoes if you have specific pedals.
RUN:
Runners and comfortable running gear
Still need further convincing? Many of our current members had so much fun during the Try the Tri Program, that they went on to become Social or Short Course members at Tri-Alliance. Here's a snippet of what you can expect during our six-week beginner program;
Motivating group sessions that are easy to follow
Train with other like-minded athletes (similar fitness/skill level)
Improve your Fitness and Triathlon skills with fun sessions
Increase your confidence as you challenge yourself to learn new skills and knowledge
Social, Accepting and Inclusive Environment
Meet new people and make long-lasting friendships
The sense of achievement as you cross the finish line at your first race!