Tri-Alliance will ensure you are prepared come race day with our Triathlon Race Day Tips.  In this article, you'll learn how to prepare with pre-race training tips, use our Checklist to ensure you don't leave anything at home, learn what a 'transition' is and how you can improve them and review your race and concentrate on trying to improve your race times for next time.
Pre-Race Training Tips
Is your race season nearly about to start? Or have you left your training to the last minute? Don't worry. With a simple plan, dedication and our tips on how to train for a triathlon, we'll help you get to race day with relative ease and help you exude confidence on race day.
Brick (or Combo) Sessions
Brick (or combo) sessions around eight weeks prior to you racing are extremely important in helping you get a feel for the race, as it somewhat simulates the real thing.
A brick session involves riding and running in the same session, usually doing a set distance for the ride before doing a transition which takes you straight into a fast run to finish off the bike.
A brick session could include: Warm up / 3-4 x (15min ride at 80%, 1km run at 85-90%) / cool down. These sessions can either be done from a wind trainer (controlled conditions) or on the road, finishing at a location where you can easily change into your runners.

These sessions allow for leg speed to be developed after coming off the bike, and are great to simulate race transitions. Depending on the race distance you are aiming for,  you can then slowly increase the ride and run distances in your brick session.
So if you haven't started including brick sessions into your training, why not start implementing into your training program. You will definitely reap the rewards.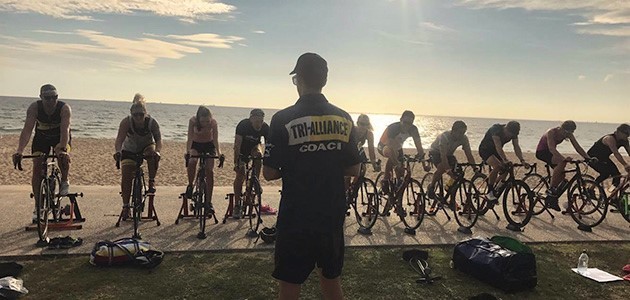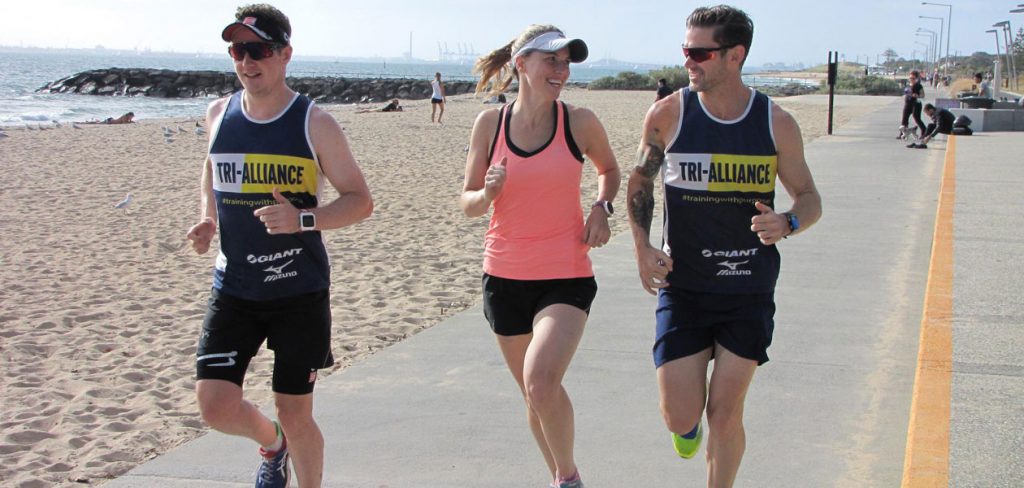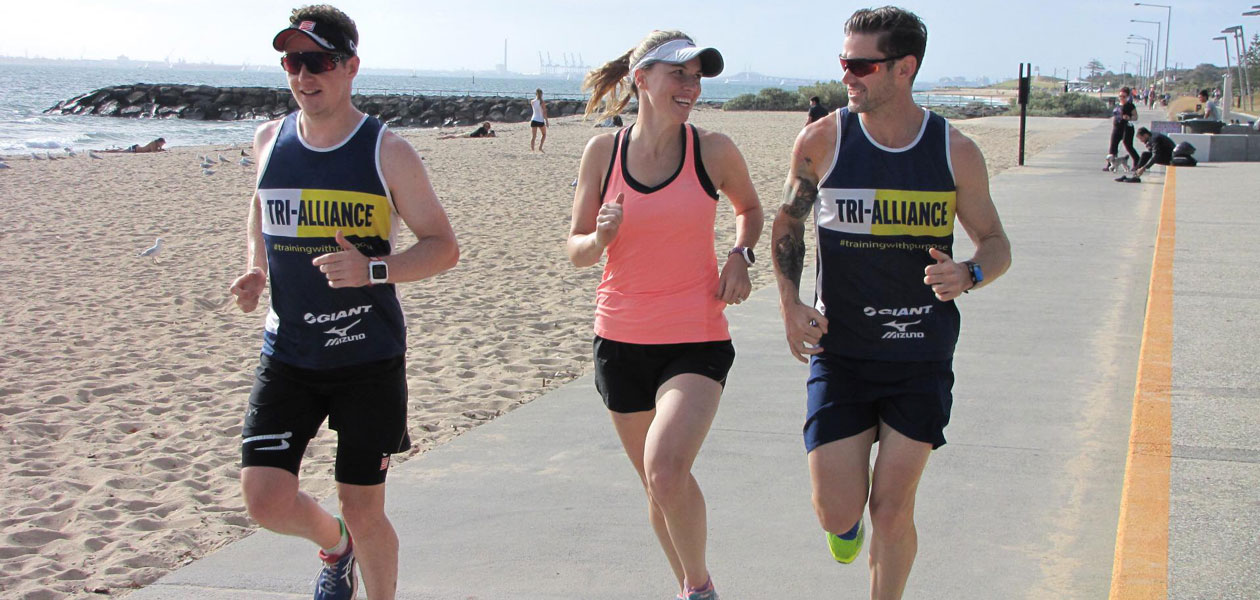 Transitions – what are they and how can you improve?
Most triathletes spend the bulk of their training time focused on the three events: swimming, cycling, and running. But the transition between each event also requires specific training.
Each triathlon has two transitions: a swim-to-bike (T1) and a bike-to-run (T2).  If you have never been shown what to do in a transition it can be very daunting!.
Knowing what to do in transition is important to ensure you have a good race, plus, a good transition can improve your position and can even save you minutes on your overall time. So here are some basic tips to help you perfect your transitions.
Ever wondered how the pro's set up their triathlon transition? Our transition tips and tricks provides you with everything required to have a quick and easy transition
Transition Tips
Your gear should be located on the RIGHT HAND side of your bike. So whether you rack by your saddle or bars, always set up your gear on the right.
If you don't already have them – invest in a pair of elastic laces for your runners. Replace your normal laces with elastic ones and presto – you will be in and out of transition in no time.
Another good tip is to sprinkle the inside of your shows with baby powder.  This helps them slide on easier and soaks up any moisture.
Line your gear up in the order you will be using it, e.g bike shoes, runners and helmet on top.  Place sun glasses in your helmet if you are wearing them, and always have your helmet unbuckled and straps out to make it easier to put straight on.
Stay calm in your transition! There's nothing worse than not being able to get out of your wetsuit, fumbling around, or dropping your helmet. You want a fast transition, but you also want it to go smoothly.
Don't touch your bike until you have done up your helmet.  It is illegal, so you could get disqualified!
Once you have your helmet secure, put your bike shoes on (if they aren't already clipped onto your bike) and you are ready to roll!
Un-rack your bike and run with it on your right-hand side, holding your seat with your right hand.
Your bike should already be set in an easy gear, run your bike out to the mount line and jump on. REMEMBER, you can't jump on your bike until you past the mounting line. There are many ways of mounting your bike, but this needs to be shown and practiced.  (join one of our  beginner training programs to learn how the pro's do it)
Slow down ready to dismount at the dismount line. Remember, you must have both feet on the ground BEFORE the dismount line.
Keep your helmet fastened until your bike is racked back where you began.
Rack your bike, and take off your helmet – do this FIRST to avoid running out with it still on your head! Put on your runners (if not already on).  If you don't have elastic laces then you need to get some ASAP.
If wearing a hat on the run, don't put it on in transition – just grab it and go. It's quicker to put on while running.  (more seconds you will save!)
And last but not least – enjoy crossing the finishing line! It's all about the photo, so remember to smile.
Remember, a good transition takes practice and time to master, use these tips and tricks and practice, practice, practice.
Improving your Triathlon Race Times

Now that you have completed a few Triathlons, you should be concentrating on trying to improve your race times.  Although it is hard to compare times from race to race as there are many variables including weather conditions and the race venue, it is still a good time to go back over your last few races, review your times and set goals for your upcoming races.
Tri-Alliance offers free clinics on the Saturday before race day during the 2XU Triathlon Series, and also offers entrants a FREE six-week Triathlon Training Program where our qualified and experienced coaches will have you from zero to hero before your first race.