Introducing our first guest to Ambassador Antic's…Jayde Osborne!
Jayde, tell us a bit about yourself.

I joined TA in 2016 when I went to Thanyapura, Thailand with the crew. It was such an awesome experience and I have loved being a part of the club ever since!
When I'm not swimming, riding, running- I eat, sleep, laundry, repeat! Haha. I work full time as a physio in Narre Warren and absolutely love it. It's such a rewarding job and I really enjoy working with sports people- we're an interesting breed! I also enjoy spending time with my wonderful hubby Josh, going camping or just chilling.
Can you tell us something that no one knows about you?
I used to umpire football (AFL) with the amateurs for 10 years before moving to triathlon for a bit of a change. You get to have a thick skin with umpiring and also develop very go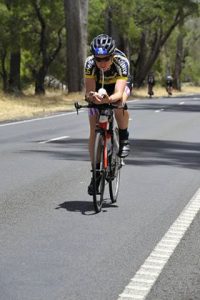 od selective hearing!
We know you raced your first Ironman in December last year – Ironman Busselton, 2017. Well done, champ. You truly made all of us very proud and it was absolutely awesome to watch you all live on the Ironman website. Tell us about your experience!
I did my first Ironman in Busselton, WA, last December. Wow, what a race. It literally had everything and took you through every emotion. I'll start with training.. I started training seriously for the IM in July under Ollie. It was a big step up for me but I like to be busy and challenged.. so to make it even harder, I decided to get married in October. The physical training was hard,
but the mental side was harder. You have to spend majority of your free time either training or preparing your stuff for training, and it doesn't leave time for much else! You become such good friends with your fellow team mates and I wouldn't have it any other way. The Busso crew were all amazing but Ash and Mario- we did our first 70.3 together so to do our first IM together too was awesome!
Travelling to Busso with the other TA athletes was an awesome experience, especially staying with experienced IM athletes Jimmy and Margs, and fellow first timer, Ash. Having their advice was awesome and they were so patient with the questions. In Busso, we did a few swims, rode and ran some of the course with Greg- having done Busso (too) many times, he offered such amazing advice!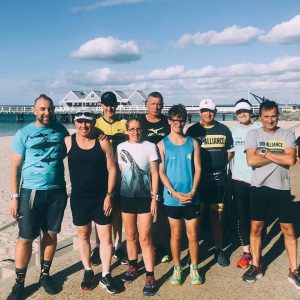 So, race day.. all IM athletes got called to the bike area after the 70.3 athletes had started. The heat was rising, but not as fast as the anxiety levels. Andy was awesome visiting all the TA athletes to keep everyone calm. Hearing the swim was cancelled was, to be honest, devastating. I consider it to be my strongest leg and where I was hoping to get a little bit ahead. I'm still disappointed that I haven't been to the end of the Busso jetty (may have to rectify that one day…). Greg gathered all the crew and delivered a great motivational speech. The race started with everyone going off every 5 seconds. The bike was next level with the heat. We were lucky enough to have had a few hot days to practice in but nothing compared to this. The aid stations just couldn't get water to you quick enough and your water would get super hot five minutes after getting it. I had covered the 180km distance at least three times in training so knowing that helped get me through.
The run was fun, being an out-and-back course, you were constantly going past your mates which was great to give and receive the encouragement (and borrow some salt tabs.. thanks Michael and Ros). Calf cramps got the better of me from the 18km mark but it has made me more determined then ever to get revenge on the run. Especially on the finishing chute where I got the biggest calf cramp of my life and had Pete Murray (voice of IM Asia Pacific) help me! Special thank you to Greg for the advice and support on both the run and the bike, I will be forever grateful. Ironman.. I will be back..
Finally, we can see you are back on the training sessions. What's next for you? 
What's next for me? Fingers crossed for Cairns.. if I can be certain there's safety from crocs!
Is there any advice, inspiration or something you wish you'd known earlier that you would like to share with your training buddies or newbies to the club?
I've loved triathlon from the moment I started. As much as it's about the training, races etc, it's about the people and the friends you make when you're training for the same thing. This sport has a way of bringing people together from different ages, genders, races, body shapes and sizes. Anyone can do it, you've just got to get started.. it's the hardest part. Some advice for an Ironman.. the best thing I could suggest is make sure you do at least one or two longer/harder/hotter/winder swim, bike and runs prior to the race so that when it all seems so hard on race day, you've got those training sessions in the bank to remind you that you are stronger than you think you are!
Thanks for taking the time to chat with us Jayde, it was super cool to get to know a bit more about you. Have a cracking year ahead and we will see you at the next training session!