WELCOME TO THE #ADVENTURESOFSHARKANDSTEPH
Wow, what a weekend in Elwood! I was very excited for my first race of the season on home soil, although I'd forgotten just how much of that home soil there is in transition ready to coat your wettie, your feet, your hands…I even managed to somehow get it all up my legs and on the top of my bike?!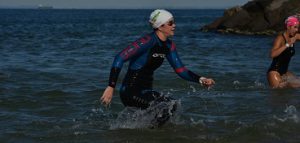 Whilst it was another points race, I had no expectation of getting better points than I already had so my main goal was to get out there, have fun and make the most of being back racing with the TA crew support and cheers. A very welcome distraction of Instagram takeover meant I was not nervous about the race at all, in fact I was so relaxed (or distracted?!) that I forgot my timing chip. After a somewhat speedy warm up run from beach to TA Taj and back and some wise words from Coach Ollie, I was all set. I positioned myself at the centre of the swim start, Ollie always tells me to but a lot of the time I chicken out. However, with an obvious advantage displayed in earlier waves and some encouragement from Sammy (and a reminder that 'Ollie said'), we got a spot together in the middle but second from the front – not my ideal!! Still with little nerves, I figured it was a good opportunity to give it a go. And just like that, we were off and racing. I found some feet to hang onto and found a good rhythm until all of a sudden I found myself passing the feet, and all those around them! It was bizarre and unlike anything I have experienced before but after a few flicks of the jellyfish, the swim was over.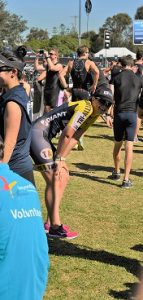 I really enjoyed the bike leg, it's the flattest course with the least number of turns that I've done all season so it was nice to find a rhythm and really test myself to see what I could do (special thanks to Phil for the encouragement!). The bike was very congested though and despite doing the best I could to keep my distance, I received my first warning for drafting!
12 months ago, I wasn't allowed to run so this was my first time doing the run course at Elwood. However, being familiar with the course from training, I was again ready to test my legs to see what would happen. The run was hard (the run is ALWAYS hard!) but for the first time in the race, I also felt nerves and stress when I spotted a girl behind me who I'd been racing very closely with all season. With plenty of athletes out on course, it was a great opportunity to work on my run play and this was made much easier with all the support from TA athletes (special mention to all the try the tri 4 crew who cheered me – I was trying to keep an eye out to encourage them but most of them beat me to it, amazing!).
I knew the TA squad was good but I'd definitely forgotten just how good! Cheers along the whole course from both fellow competitors as well as long and short course athletes not racing who still came out to support their training buddies absolutely filled me with energy, and is definitely what got me down the finish chute! If you saw me after my race, you will know that I managed to cross the finish line in the place I was aiming for and if you weren't there, you probably know because I'm sure you could hear me babbling on about it from wherever you were in the world. It was all I could talk about and a great reminder to focus on your individual results and achievements!
Being race number 7 of the season for me, I'm feeling very tired and sore and am ready for a lot of rest and recovery. I'm going to listen to my body and the coaches and make sure I'm fully recovered before I set my sights on the next race!