Tell us how you were feeling before the race?
Steph: I could not contain my excitement ahead of the race on Sunday, I don't remember the last time I felt so excited that I couldn't sleep the night before. I was dancing at the start line (using up all my energy and the reason I blew up on the run – according to Coach Gaz) and you could not wipe the smile off my face throughout – which you may say is normal but this was filled with happiness inside and out, something I haven't had for a while now, all thanks to a greater purpose.
Meanwhile, Gaz…
Late in the week of race 3 (at St Kilda) I decided, after seeing that we weren't putting a team in the Olympic distance, that I would enter as an individual in the sprint distance.
Now I hadn't done one of these for many years and so I was intent on keeping it to myself until race day, and then surprise everyone on the day!
Of course I had to tell Steph, and when I entered I had to get the team code via email and so I realised that Michelle would know, and therefore Ollie would also know.
Anyway, not long after I told Steph she came up with the idea of a race which we could use as a fundraiser for the bushfire relief effort, and I agreed that this was a brilliant idea.
Steph: Ahead of the race, I was not allowed to share my actual race prediction, Gaz said this was forbidden and that I should be backing myself 100 percent. However, he can't stop me sharing it now! I felt very confident in my chances on the swim, as well as transitions, however, I predicted that Gaz would beat me on the bike. I honestly thought he would also beat me on the run…and that was with me expecting to run at least 3 minutes quicker than what I did! So turns out, I'm the winner of our bet 😉
Gaz: The concept quickly gained legs and we noted the interest not only in the fundraising aspect, but also the "Steph V Gaz" contest, and so the pressure began to mount.
Trouble was it seemed to be me feeling the pressure as Steph just seemed to be cruising along with a big smile (nothing unusual I know) and feeling no pressure at all.
So I have to admit that the first points went to Steph in the pre race tactical and psychological battle, where any of my attempts to intimidate her not only failed but seemed to backfire, and as such come race day I was sh——ng myself and just hoping I could limit the extent of my losses and not make a complete di-k of myself.
In my own mind I thought the race would pan out with Steph winning the swim, but not by that much, then belting me in transition(s), and I felt she had the edge in the run.
So I had to make as much ground on the bike as I could and in fact needed to pass her on the bike leg and hope I wouldn't lose more than 2 1/2 minutes on the run.
And in fact this is very nearly what happened. The difference was that I had the slice of luck that we all can do with, in that Steph didn't have a good day on the run.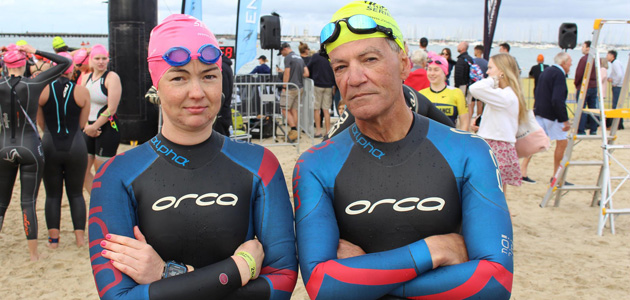 It's go time…what happened?
S: Back to the race, due to my dancing and pre-race shenanigans I missed my front row position at the start line – rookie! But, after being pulled out of the crowd for a pre-race interview, I went back to the start line where everyone parted to allow me middle and front row position…and they say the female's race is nasty…pffft! The swim was weird, I felt like I wasn't swimming particularly hard or well but felt like we were going quickly, likely because I was drafting most of the way! Out of the swim, there were a lot of cheers and I was told that I was winning…and I wondered, with Gaz still in the water, how did they know? Heading in to transition, I stayed calm and "slow" as (without giving my secret away) I believe that thinking "slow" means you are less frazzled with less opportunity for mistakes resulting in you being quicker.
G: So what happened then? You all ask!
Well at the start we were in consecutive waves with me starting 2 1/2 minutes after Steph.
As it happened we were both interviewed at the start and once again Steph won this aspect of the contest, being far more interesting than me, and gaining the respect of her fellow wave starters such that they allowed her back at the front for her start after the interview took her to the back of the pack.
In my case I was left to fend for myself and try and push my way back through the complete indifference of my fellow age groupers!
So off we go and sure enough Steph won the swim, pretty comfortably really and I remember Greg yelling something uncomplimentary at me (nothing new there either) as I ran up the swim exit with an estimate of the time I'd already lost. She also won the transitions, but I have to say My transitions were far better than everyone anticipated (including me) and so I didn't lose as much time here as I had forecast.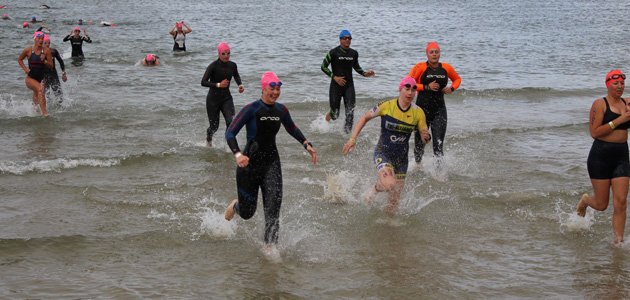 Did Gaz catch her on the bike?
S: Onto the bike, with a tailwind to begin, I tried to lower my HR and thought how ironic it was that I was using Gaz' advice and expertise in a race against him! After the first turn around the wind hit but I focussed on my power and pushed through, not long after I saw Gaz whooosh (that's the sound of his disc wheel on his TT bike!) and neeooom (that's the sound of his sperm helmet!) past, he didn't see me, which is exactly what I was hoping for.
Steph mental game 1, Gaz mental game 0.
G: On to the bike and I knew I had to go hard and make up time. And I did! But at the turn at Head St on the first lap where we could first see each other I remember thinking, "gee I don't think I've made up much at all, and she looks so happy"! Another psychological blow to Steph, but with my tyres blown up to 386psi and my disc wheel making a comforting whomp sound, I pushed on.
I don't think I saw her at the Kerford rd second lap turn, probably due to my eyes glazing over with sweat and tears (mainly tears) from the effort I was producing, but at Head St the second time I was within range and managed to pass her just after the dogleg bit and then went for it to gain something of a gap!
S: Feeling a bit faint (maybe I did work hard on the swim!) but powering on, Greg popped out of nowhere – probably from behind a bush because that's what Greg does! Most of short course will know my mantra is "train/race as if Greg is watching. Because he's always watching." – but the good thing this time was his update, I had beaten Gaz on the swim…wooohooo! That followed shortly after by loads of cheers as I went past Catani Gardens spurred me on and helped me keep the power up as I continued to pick off rider after rider whilst trying to push the queezy feeling to the back of my mind. The turn around at Elwood meant we said goodbye to the headwind, I spotted Gaz again and this time he spotted me. I cheered him on and made a mental note of where we were in relation to each other. Riding through the little additional loop near Point Ormond filled me with immense satisfaction as I knew exactly how much Gaz disliked that spot and how much I like it. I hoped Gaz would also think about this as he went through.
Steph mental game 2, Gaz mental game 0.
Flying past Catani Gardens, no update but lots of cheers. Another turn around, this time I felt like Gaz hadn't caught me at all and I knew he would so I kept pushing on, the hardest I think I've ever ridden! The turn around at Elwood showed me exactly how much Gaz was gaining and then by the little additional loop, Gaz was even closer…eeeeeppp. Then, just near Donovan's, I hear the whoooshhh whoooshhh neeooom (did I mention he had a disc wheel and a sperm helmet and was riding a TT bike!!) of Gaz coming up behind and going past me…I put the final push in to stick as close as I could thinking…if only this was draft legal! To come into transition not too far behind…as we passed each other in opposite directions in transition, I told Gaz to not take too long in there…and proceeded to exit T2 ahead of him!
Steph mental game 3, Gaz mental game 0.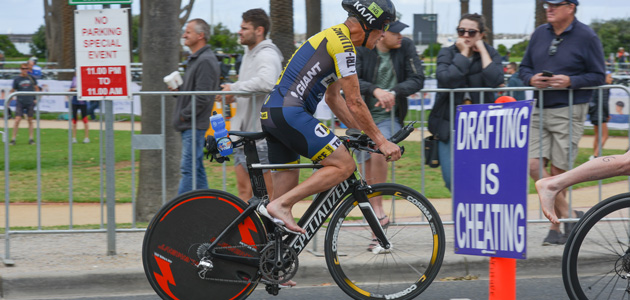 In and out of T2….what's happening?
G: So we come into T2 and, for the first time ever I took my feet out of my shoes to dismount!
I really impressed myself, and had to put that in here (for Greg mainly).
Now I don't know how well you all know Steph but she has this ability to be in many places at the one time. I have theories about this, and one is that she can bend time and space and move through dimensions.
I have evidence to support this, but on this day I got into T2 then heard Steph come in after me and yell something like, "you'd better be quick", and I was, and as I exited transition and glanced behind to see where she was, I looked ahead and she was about 100m ahead of me!
Another blow for Steph, as I could not, for the life me, work out how she did this, and it was some time before I could get my head around it and get on with racing.
So the run went in my favour and on that day Steph didn't have her running legs with her, and so I got to the finish ahead of her.
S: But then was the moment, the moment it all came undone! My race plan was, predicting Gaz to get me, or be very close to me after the bike, that I would then run with Gaz and see if I could use him to give me the push and drive that I lack and find so hard to do in myself on the run! However, as Gaz went past me, I just couldn't make my legs go any faster and battling a stitch, I just couldn't do it. I just kept telling myself to keep my feet moving and find my rhythm…once again, ironically using Gaz' advice in a race against him! After the run turn around, I noticed an athlete that always does very well in my age group…behind me!! If I was looking for the extra motivation to get going…this was it! I tried to do everything I could to stay in front of her but with about 500m to go, she got me! The second half of my run was much better than the first and a part of me now wonders if I could have been able to just shout at myself to go with Gaz as he went past…I'm not sure but it's definitely a learning experience and only stokes the fire to go again and try again next time. Crossing the finish line, Andrea and Gaz were already there and it was hugs all round! This was lucky as I was overcome with the need to pass out/spew/collapse/sit down…the only time I've ever felt as unwell at the end of a race was at World's so I knew that I had given it everything and was so happy to have been able to push myself…something I've been working on!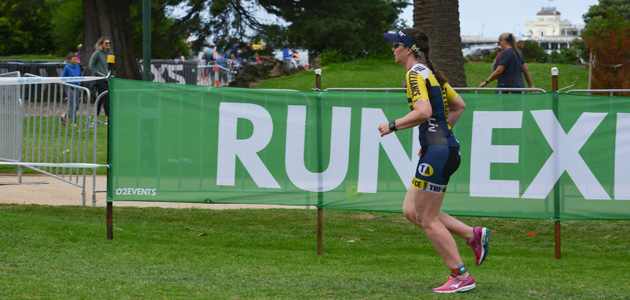 Give us the lowdown…who won?
G: I was spent, my tank was well and truly empty, I was gasping and coughing and others (including Steph) were holding me up!
So I guess Steph recovered better, and has, over the week, shown greater resilience than me. Another point to her!
So don't be fooled people, any talk of a rematch I'll meet with just as much trepidation as I did for this one, but when the luck does run your way try and make the most of it.
S: So, the final result? Gaz won. I won the swim and transitions, Gaz won the bike and the run. I was stoked with my bike, and disappointed with my run. But I had a blast! Words can't really describe how incredible it was to see everyone's donations flying in, along with messages of support, encouragement and of course, the bets!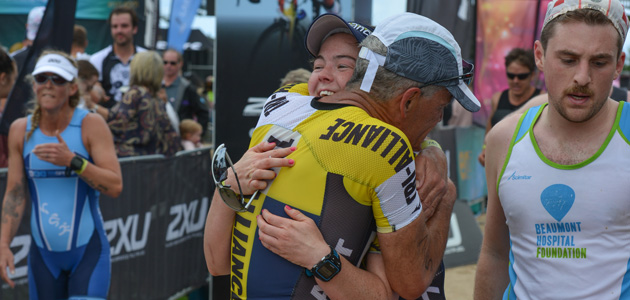 And what about the fundraising?
S: My heart was racing out of my chest (more than the T5 I held through the bike and run) when I clicked "go" on the fundraiser. I put our initial target of $500 and was full of anxiety that there would only be a few people donating a few dollars here and there. Within 3 hours, we had already passed $500. Within 24 hours, we had already passed $1000. And within a week, we reached a total of $2500…I don't have words, other than THANK YOU.
Both: Thank you to everyone for your support, whether you donated financially, bet on us, sent us messages of support and encouragement or were there on race day cheering us on! We could not have been happier with the support and morale that this challenge attracted. It means so much to us and is exactly the reason why we do what we do!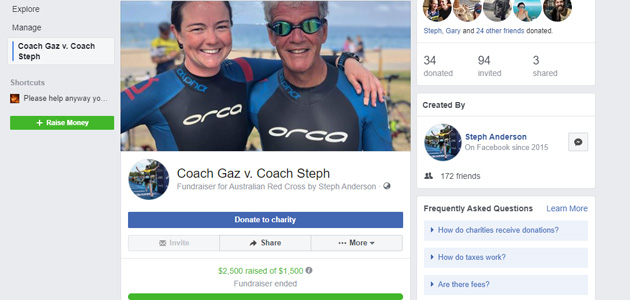 Is there another challenge?
S: Thank you to Gaz for agreeing to the challenge, it's pretty nerve racking to put yourself out there like we did and honestly, neither of us knew what would happen, we had inklings about a few of the legs in particular but all in all, and as we all know, anything can happen on race day and knowing that there was a greater purpose I think helped us both.
G: By the way, we do have another contest planned, we are both doing the swim leg at Geelong as part of teams.
I reckon I can psych her out of this one:)
What do you guys think?
S: I, personally, can't wait for a re-match!