IRONMAN New Zealand has been held in Taupo since 1999, and boasts to showcases breathtaking scenery along the course.  The swim happens in one of the world's biggest fresh water lakes.  A two-loop bike course comes back through town before heading through the forests and a three-loop run course leaves athletes no chance to escape the thousands of spectators (http://ap.ironman.com/triathlon/events/asiapac/ironman/new-zealand.aspx#ixzz5hHfG9ktu).
But most importantly, it was a day for 3 of our athletes: Jimmy, Michelle and Michelle.  We are SUPER proud of their efforts, achievements and down right determination to go out and cross that finish line with their heads held high.  Jimmy for his 'comeback race' which turned out to be his BEST yet.  To Michelle P for not only finishing her first Ironman, but having to jump a major hurdle along the way (not even a bike crash will keep this lady down!).  And to Michelle G who had qualified for the Ironman 70.3 World Champs in France later this year….who hoo!
Now let's get their reflections on the day…
Jimmy Tyler:
Warning: War & Peace now has a sequel.
In short, I swam, I cycled, I ran, and got some PBs. And fell in love with my stomach again …
I love it when a plan comes together.
In what was meant to be an experimental comeback race, and also a dedication to my mum and (dog) Bailey who both passed last year, I ended up with my 8th race being my best ever Ironman race experience. Given the limited recovery time from my collarbone surgery, I was really only aiming to beat 12hrs. Secretly though, I thought best case, if I didn't lose too much time on the swim or bike, that maybe, just maybe, the nutrition could help recover some time on the run and I could try to get close to last year's 11:04.
Well, coach Greg had a little more faith than I did that something special could happen and he was right. I finished in 10:57 with a course PB; and with a 3:34 run (26 mins quicker than last year), my best ever Ironman marathon despite the very hilly course. But most importantly, for the first time, the nutrition completely worked. It was better than I could have hoped for.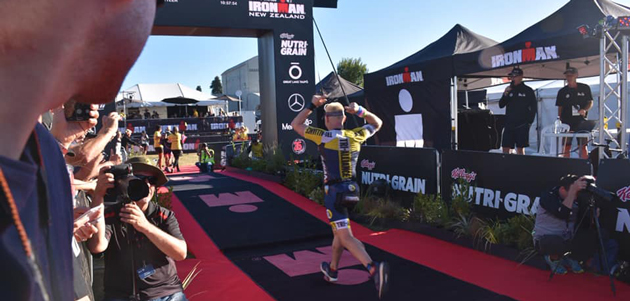 Michelle Paton:
So i can definatly say that today was unexpected. A slow swim wasnt the greatest of starts but then i came of the bike at about 42km quite hard and ended up in the back of the ambulance with a dislocated left ac joint and right thumb, cuts and bruises. I thought my day was done but then remembered that I'm a stubborn bitch so told the St John girls how to tape me and off i went. Needless to say it became a day between myself and the finish line rather than the clock but i was determined! I know I'm going to be sore tomorrow…… big thanks to my support crew Michelle Grocock, James Tyler and his wife, and my man Ian Carter…. looks like i might be an invalid for a bit – but i am am ironman! 
🙂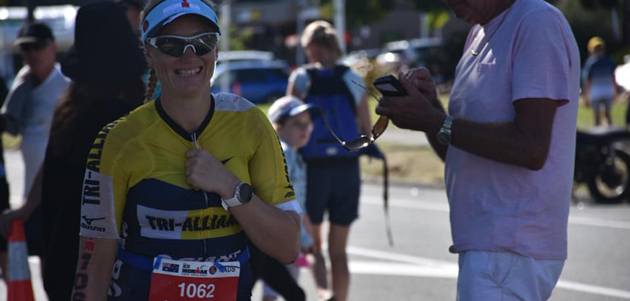 Michelle Grocock:
An excellent day out at Taupo 70.3 yesterday. And how did I not know it is pronounced Toe-Paw? Still getting my head around that ?
For some reason, I didn't have crazy nerves before this one. Usually I'm a wreck for the 3 hours before the race, but not so this time. No idea why not. Maybe having injured calf in the lead up took the pressure off?
Was great to be able to watch the Ironman athletes start their swim first before getting in myself. It was a deep water mass start which was really good. And the swim itself was beautiful. Taupo Lake is crystal clear and was a nice temperature. I think it was warmer in the water than out at that time of morning.
…
But of course the highlight of the day was qualifying for the Ironman 70.3 World Champs in Nice, France in September. I had been working on a cunning plan to try to qualify for the 2020 World Champs (race in remote parts of the world to try and pick up a spot type cunning plan). But to get it this year is just mindblowing, and a fantastic reward for the consistent training I've put in. When I thought I might have a chance of getting a spot, I messaged two of my awesome colleagues at work as to whether we could make it work around work commitments – their immediate response – of course, go for it! Thanks guys ?
And finally, if you wanted examples of true grit and determination, you don't have to look further than both James Tyler and Michelle Paton.
Jimmy – you have dealt with so much in the lead up to this race – your bike crash, the recovery, and all the ongoing stomach issues you've had in races to date. So proud of you for what you achieved yesterday – you smashed it, so well deserved!
Michelle – what an example of what determination and sheer bloodymindedness looks like. So happy for you. You are an Ironman! ??
Now bring on Ironman Texas in 8 weeks! ?
Determination. Consistency. No Excuses.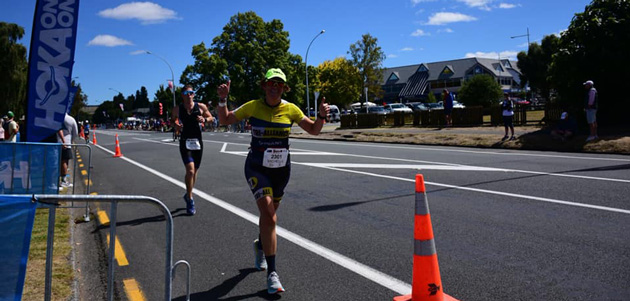 2019 Devonport OTU Sprint Triathlon Oceania Championships
The Devonport Triathlon, now in its 34th year, showcases elite triathletes from around the world and includes a Paratriathlon World Cup. The weekend included a whole lot of excitement with the Oceania Championship, Mixed Relay Championship, Youth and Junior National Championship, which means the fields attracted the very best Australian athletes and New Zealanders.  The racing was fast and furious, with so many athletes focused not just on titles but all valuable points towards Tokyo 2020.
Our very own elite female, Lotte has been working hard towards this one and she didn't disappoint.  Lotte lead the entire swim, losing small ground to the girls through T1; smashed out a strong bike leg on a hilly course and then put everything on the line to hang in there on the run.  She finished in 4th place with some important gains from recent training shining through, some strong performances and some valuable learnings for future races.  Well done, Lotte.  We're all very proud of you!
"A beautiful day in Devonport for a swim-bike-run. I came as 4th women and 9th overall women &U23 over the finish line.
It was a big day at the office and got some good feedback to work on for the next couple races!"
#triatleet ##swimbikerun #swimbikerunworld #raceday #trilife #tri365 #swim#bike #run