In 1935 Mizuno opened its first sales headquarters in Osaka. 'Yodoyabashi' was the tallest building in its area and became a symbol of Mizuno's progressive nature. When Mizuno moved to its current office in 1992, Yodoyabashi was converted into Mizuno's flagship store at the heart of the city that grew around it.
For 112 years, Mizuno has relentlessly pursued perfection to give you a head start in your journey to greatness. We are driven by a passion for sport and dedicated to bringing the highest level of equipment to everyone who shares our enthusiasm. We are devoted to creating excellent products through endless development, this is driven by our passion to help you craft your dreams into reality. We will keep pushing the boundaries with innovative cutting-edge technology because we want to help you push the boundaries of your sport. Like the athletes we proudly support, we are always looking to improve on our best.
But how do you know which model of Mizuno is right for you?  Well, to give you a quick guide, here is a list of their current models, broken down into supportive and neutral:
Supportive Shoes – In Order of MOST supportive
Wave Paradox
Wave Horizon
Wave Inspire
Neutral Shoes – In Order of Most Stability and Cushioning
Wave Sky
Wave Rider
Wave Shadow
Wave Sonic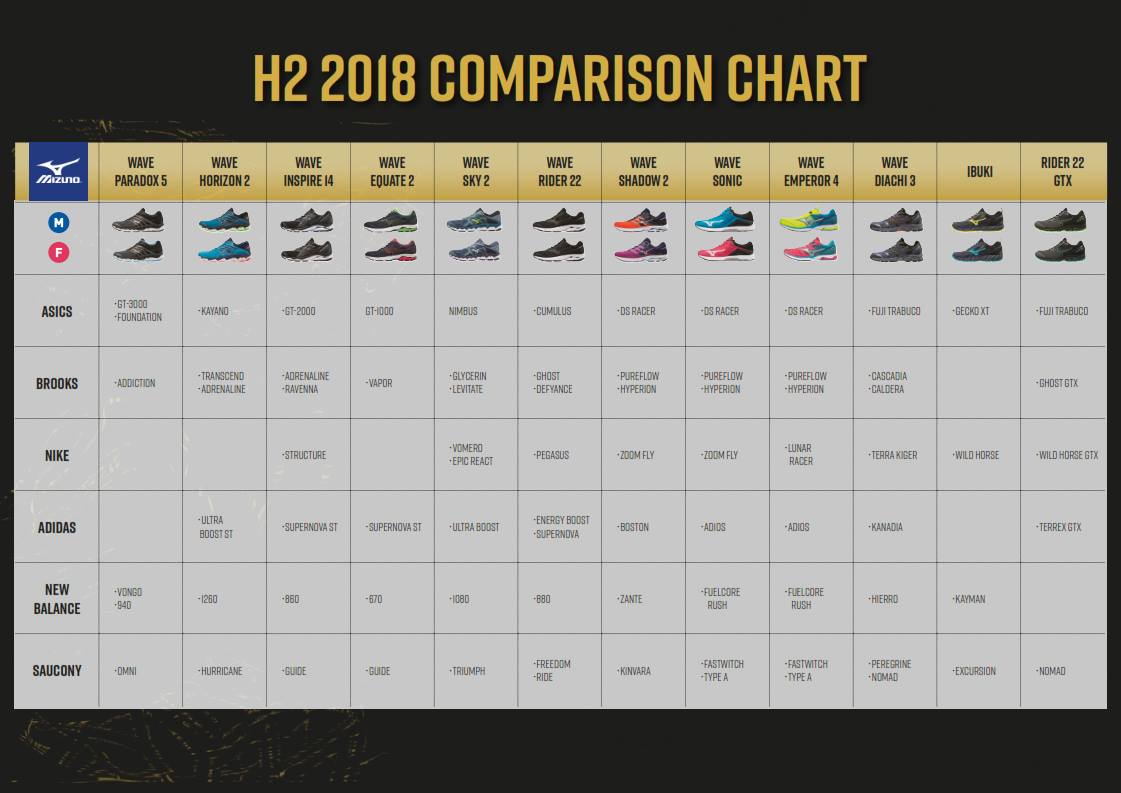 HOW TO CHOOSE THE CORRECT RUNNING SHOES – AND WHY IT MATTERS
Posted on Mizuno.com.au SEPTEMBER 26, 2017 
All running shoes are not created equal. If you want to maximise your performance and keep yourself free from pain and injury, it's vital to select a pair of running shoes that's appropriate for your needs.
For this reason, we were thrilled to feature in a recent article with NSW Compensation Lawyers on the importance of finding the right shoe in order to stay safe and injury free!
We believe in the transformative power of running and how it has the power to change your mood, mind, your day and your outlook on life. But, as it's is a weight-bearing exercise involving repetitive movements of your feet, running safely begins with the right shoes.
Here are some of our top tips for selecting the ideal pair of running shoes…
Visit your local running store
A specialty running store will be able to analyse your gait and fit you properly. Based on your foot type they will either suggest a non-pronator (neutral shoe) or a pronator (support shoe).
Your local running store experts also understand that different shoes are needed for different types of running. For example, if you're running a marathon you'll need a well-cushioned shoe such as our Wave Sky or Wave Horizon, whereas if you're training for a 5km run a lightweight performance shoe, like our Wave Shadow or Wave Catalyst would be more appropriate.
Select the right size
Not everyone realises how to select running shoes that are actually the right fit for exercising in. There are a few simple ways to make sure.
Check that the width is comfortable and you have enough movement in the toe box. Don't forget to lace them up when you're trying them on – this is the best way to ensure your heel is sufficiently secure and locked in.
Always leave a thumbprint's space at the top of your shoe. Your feet swell when you run, so it's important to allow for this. This is why it's better to shop for running shoes in the afternoon rather than the morning, as your feet swell during the day, so this will give you a more realistic idea of the size you need.
Don't be surprised if you need a different size of running shoe than in regular shoes – this is perfectly normal.
What your shoe should do
You need the right amount of cushioning and stability in a running shoe to make sure you can run comfortably and go the distance. We use Wave Plate technology in our shoes, which tackle both issues in one – by providing you with a shoe that will give you support and comfort as well as being highly durable.
For more tips on running safely, be sure to read our feature in the article 'Exercising safely on the roads in your neighbourhood'.