So I hope everyone's been waiting for the answers to the "Pants" puzzle!  But before we get into that (hahahaha), I'd like to say a few things about the camp in general.
Sometimes the right group of people get together at the right time, and in the right place!  What was an incredibly taxing training camp was made an absolute ball by the people who were there.  We had a blast and so many memories to share, not only of scenic rides, beautiful swims and stifling runs, but of meetings, and massages and coffees and chats. I met the most marvellous people, I trained with the most tenacious athletes, I experienced the extremes of endurance training in the most torrid of environments, but all the while buoyed by a camaraderie that was simply inspiring. We sweated, we strained, we plunged into hot and cold pools, some of us cried (well one of us) some of us cooked, some of us walked, some of us ran, some of us did things we'd never done before. And we kept going, we never stopped, not one of us!
My thanks go to all who were there; Steve, Jen, Eddie, Jo, Andy, Jo, Hannah, Jeremy, and of course Steph.  To our  NZ friends Liz and Dave who fitted in so quickly to become part of the team!  Special thanks to Ollie who worked his butt off putting it all together so we could benefit from the full experience Thanyapura has to offer, although I will NEVER forget those extra 4 x 250's.  Of course special special thanks go to the mighty M, who puts up with me more than anyone else, and without whom I simply wouldn't be able to do these things.
So in no particular order here are the Pantswers, I mean answers hehehe…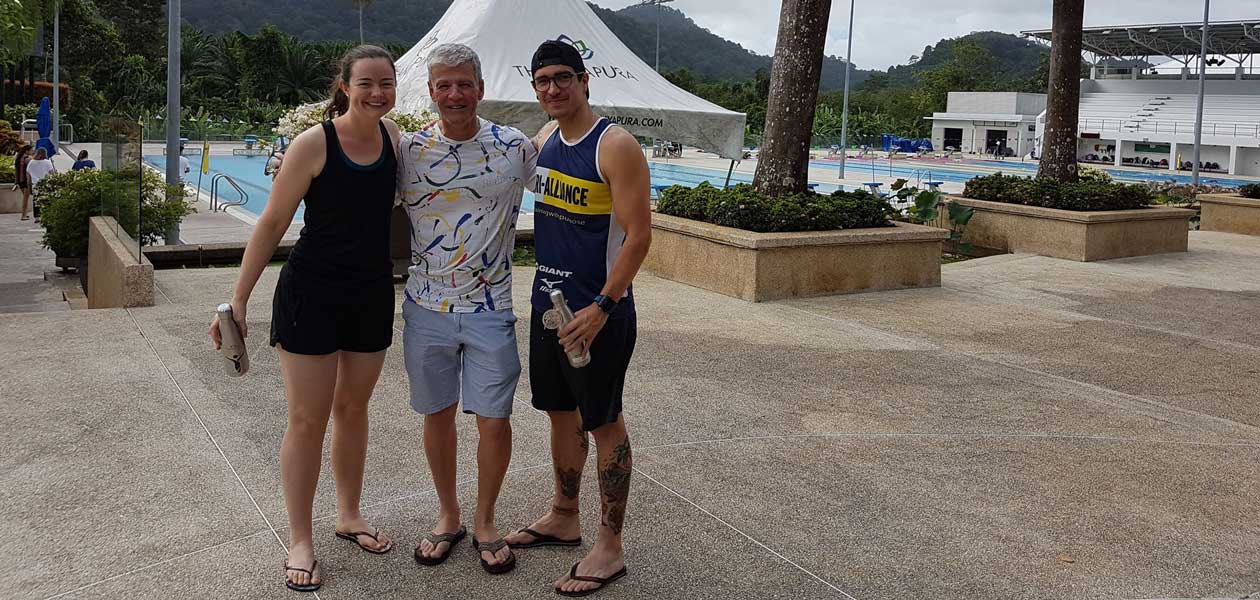 Ants in your pants:
Also could be Busy pants, Hannah's appetite for training had to be seen to be believed. Her small frame defied the incredible strength that lies within. Our training sessions were long, hard and intense, and no sooner had we finished one she would be looking for something else to do. Cardio, Zumba, Abs, or whatever session was on offer she would be in it. Red Bull Syrup pants said he would break her, but I don't think he ever did. Even a stomach upset didn't stop her, doing hot laps with the occasional "nature break".
Ollie Pants:
The only difference between Steve and Ollie I could discern, was Steve wasn't barking instructions at me all the time. Seriously I would be riding behind the two of them and only tell them apart by their slightly different helmets! I did think to myself on occasions that I should ask Jen if she had the same problem, but never got round to asking her. Steve was very strong on the bike and at the risk of upsetting red bull syrup pants, there wasn't much difference here either!
Red Bull Syrup Pants
Ah yes our mighty leader and coach, Ollie.  When you've trained to the point of collapse the last thing you want to see is your coach downing a bottle of Red Bull Syrup! "Oh great, that will perk him up for the afternoon session so he can really get on our case". People were heard to say, well I was heard to say!!  Honestly it was frightening, at the end of one very long swim session, we got an extra 4 x 250's!!!  4 x 250 that's a kilometre Steph, in case you didn't know, we'd already done 4K and got an extra kilometre, 1000 metres, a Kilometre Steph!  It's lucky I never complained about these things!
Sweaty Pants:
The amount of fluid Andy loses is staggering. If you're on a run and you don't know the course, stay behind him ( he'll probably be in front of you anyway!) cause he'll leave a trail of footprints! No Kidding I was running with Dave and we weren't sure of one of the turns and he said, "yup this is the way cause there's Andy's footprints", and Andy was already out of sight. A diesel on the bike and king of the puns all he needs is a constant supply of fluid replacement and he'll just keep going, unless he stops to help someone, which he is always the first to do so!
Determination Pants:
I just have this feeling Jen is one of those people you don't get in the way of. She has a goal and She WILL get there. (must remember to ask Steve about this, maybe at the same time I'm asking Jen about him—-Or maybe not!) Jen never shirked, never complained and just quietly got on with the job, she aims at least as high as everyone else with a determination the match of anybody's. Maybe She thinks Steve IS Ollie and therefore is always keeping an eye on her to see if she slacks off! I don't know, but I do know she did all this with a smile on her face that lifted all of our spirits!
Junior Pants:
The youngest of the crew, Jeremy had the unique experience of witnessing Grumpy Pants' first foray into the cold plunge pool! Now before you start having weird thoughts, there was no nudity involved, but there WERE tears, and there WAS laughing. I'll leave it to you to work out which of the two were laughing, but I think it set the tone for Jezz's Thanyapura experience.  A serious athlete, it was only by making him laugh that I could try and slow him down so I had some chance of keeping up with him!
Cheating Pants:
Eddie's pool attire included a pair of shorts which looked like they were the kind of thing you jumped out of an aeroplane wearing!  I kept looking for the CO2 canister but I think he had already pulled the cord. When he added a pull buoy he he barely touched the water and would wave as he floated over us.  Grumpy pants kept pointing this out to red bull syrup pants as an excuse for not being able to keep up with him, but to no avail! Grumpy pants never got any sympathy.  Eddies stories about his experiences were hysterical and kept us all in fits, if you get a chance ask him about Durian, or Corryong or even his battle with intestinal rebellion! Just offer him a coconut and sit back and let him entertain you!
New Pants:
For someone new to this game, Jo slotted in as if she'd always been there. What WE all take for granted, Jo took on as a very steep learning curve and was never phased. Getting used to new bike, shoes and cleats in groups she has never ridden with before. She held her own in an experienced group of athletes with a training agenda that tested every one of us. All the while dealing with a durian affected Eddie with intestinal rebellion (see above).
Tourist Pants:
So Maria and Jo go on a tour to a beach where you cant swim, there are no shops, and they were left there for 4 hours. For some reason this was of great amusement to grumpy pants, they did however utilise the time for a long and picturesque walk.  They did have another go and managed some shopping which included a pair of fish flops (=thongs) which were presented to grumpy pants that night at the team briefing, much to everyone else's amusement!  They did partake of the facilities and got into the spirit of the training thing, and participated in several of the classes on offer, but to Maria's dismay (and shall we say she wasn't happy about this) her weight and metabolic age actually increased over the week!
Happy Pants:
I know its getting tough now and there aren't many options left but pretty obviously this is Steph! I marvelled at ALL the people on the camp but Steph's incessant smile and cheery demeanour even managed to cheer me up.  It didn't matter what red bull syrup pants threw at us, Steph's outlook never changed. She also had the dubious honour (in the absence of Michelle) of being a sounding board for Grumpy pants. An unenviable job you'll all agree. I bet you'll all be surprised to learn she even coaxed grumpy pants into making up and singing a song (or two!!). Maybe she'll sing them to you, just her though, no duet!  But that's just one of the many stories that made up Thanyapura August 2018!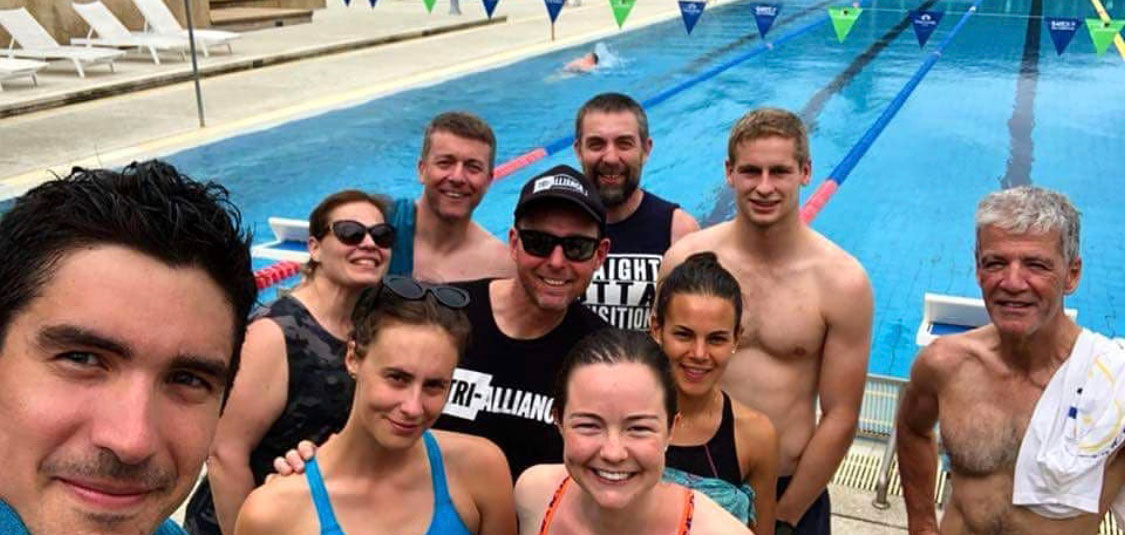 So thats it! Maybe you all should think of going next time. It's incredibly hard, tough and exhausting training, but its exhilarating and dare I say it – fun!  So if you get a chance to do this camp, DO IT, its simply brilliant, and that's coming from me folks!!
Once again thanks to all those who went and to all those who made me go, it will remain one of my fondest memories.  Thanks also to Daniel (Power Pants) who took us on those rides and i hope he reads this! I hope he's enjoying himself in all that heat and sunshine wearing short sleeves and shorts and not having to worry about hypothermia and…………..yeah enjoy!!!!
Oh what's that you say?…….There's one more?…..Oh I forgot about him!
Grumpy pants
Well, he'll have to remain a secret cause no one could possibly guess who he is!!
Just one more thing!  Be careful of the Thai massage, especially if there's any mention of fruit!!!