| Athlete | Race# |
| --- | --- |
| Stephen Watts | 445 |
| Sarah Ryan | 480 |
| Evan Maudsley | 753 |
| Janine O'Grady | 1076 |
| Juliet Cooper | 1237 |
| Mario Staffieri | 1332 |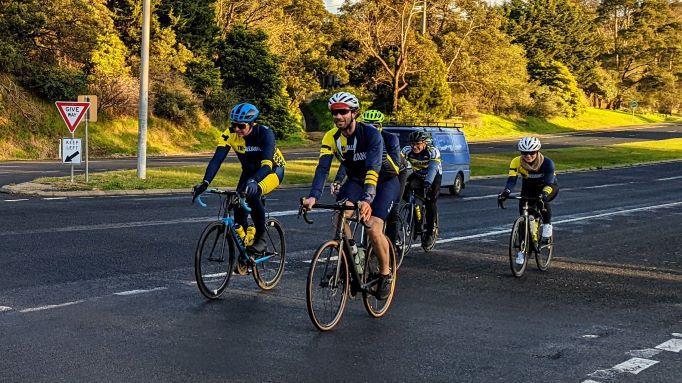 Name: Stephen Watts
Race #445
IM history: First is the best right!
How has this journey gone so far: I have a history with endurance sports having completed a number of marathons. About a year ago I was considering an ultra marathon or a triathlon. On a coin flip with a friend we went with a triathlon doing our first Olympic tri in March 22 and fast forward to now and it is ironman time. I give the group a lot of credit with all the comradery, knowledge, humorous conversations, and dedication to the sport. I always appreciated that on the day of the event I would need a lot of mental focus to get through it, but what I wasn't expecting was the mental focus to get through the training leading up to it. I love to push my body and find my limits, and yet I acknowledge that these last few weeks leading up to race day have been a push both physically and mentally for me. Big shoutout to the entire team as I would not have made it this far without your support, especially the big dog who picked me up from the lowest of lows a few weeks back. At this point I've found my big boy pants, frozen my legs in too many ice baths, been bruised and abused by enough myos, and steeled my mind. To quote an idol – YOU DON'T KNOW ME SON!
What are your thoughts about Busso: It's a place with a lot of beach, a lot of sun, clean water, and flat roads. Keep that rain away and I'll be a happy chappy.
What are you most looking forward to: I'm sure a lot of people say they are looking forward to crossing the line, and it's true I look forward to that point in time. More importantly, I look forward to the opportunity to challenge myself, play the mental game of chess, tweak each muscle in my lower body as I weigh the power over distance, and reach deep within myself to find a level I have not previously discovered. This is an important step for me to learn about myself (selfish, but true) and make sure that when I cross that line I know I have given everything I have to offer. One day, maybe not this time, but one day I will be strong enough to earn my spot with the best of them at Kona.
What are you worried about: Until recently I was materially worried about not having my TT bike for this race. I'm happy to say that is no longer a concern because while I still don't have a TT for the race I refuse to let that keep me down. Realistically my biggest concern now is likely the heat, good ol' Melbourne has been kind enough to grace me with a plethora of raining and frigid days which is not exactly what I'm expecting in Busso.
Favourite training session: MMM, though call. I'd have to say I have enjoyed Thursdays with the combination of hotlaps and intervals. Though that was before hotlaps turned into a 90km ordeal – come'on.
Your go-to training nutrition: a balanced diet?
What's for breakfast race morning: easy – oats, maple syrup, cinnamon, eggs, arvo, coffee.
How will you celebrate: let's cross the finish line first before worrying about celebrations – that's putting the cart before the horse.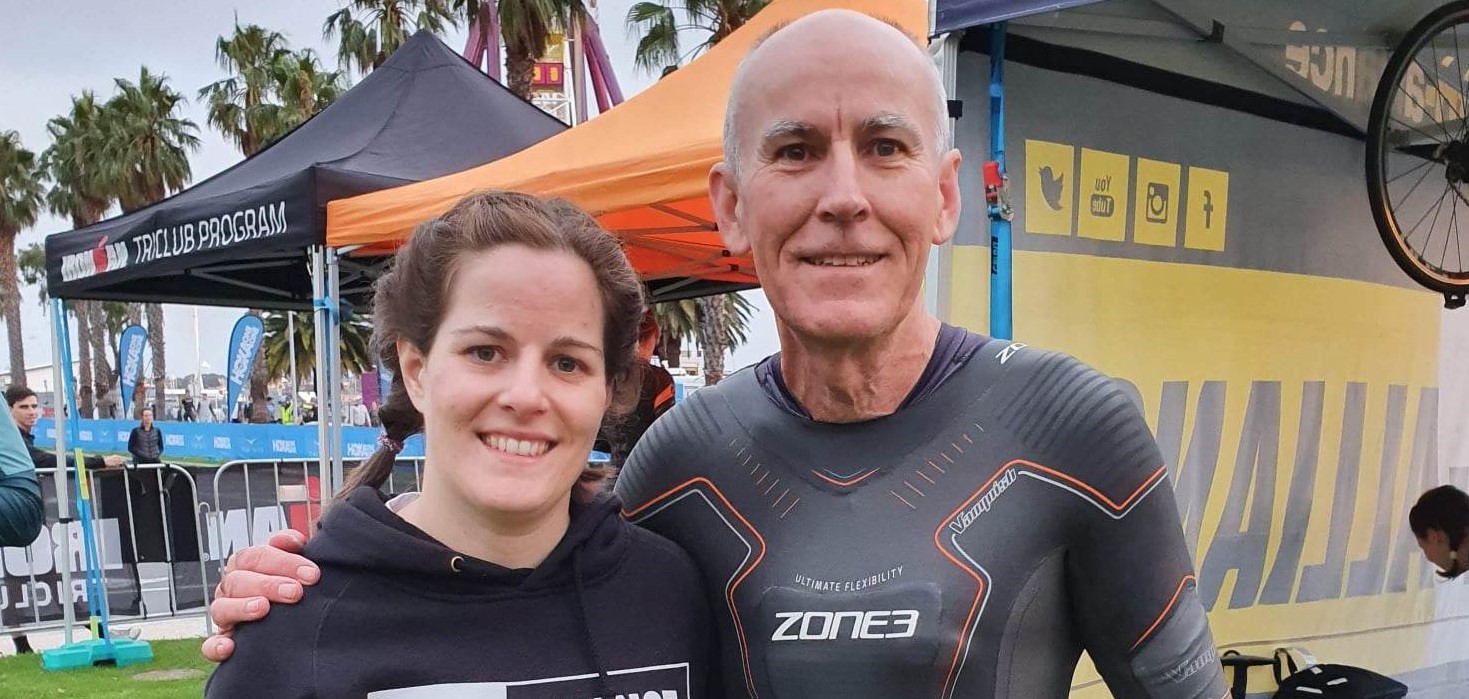 Name: Sarah Ryan
Race #480 1st #firsttimer
IM history: Did my first half at Busso (the famous 2017 ) with Dad. Now returning back and stepping up to the full with Dad.
How has this journey gone so far: pretty good.
What are your thoughts about Busso: best IRONMAN in Oceania.
What are you most looking forward to: the run!
What are you worried about: bonking
Favourite training session: swimming
Your go-to training nutrition: donuts…
What's for breakfast race morning: weetbix probably
How will you celebrate: Maccas followed by drinking in Margaret River.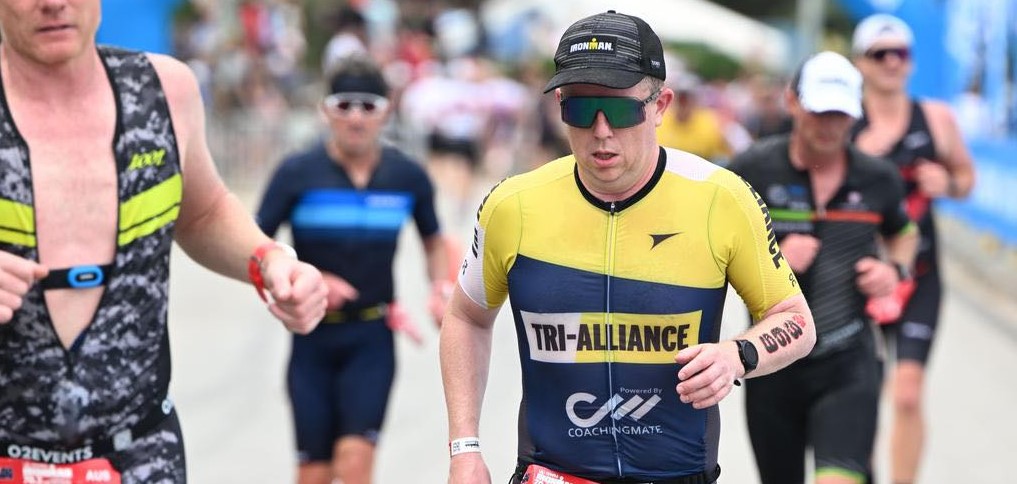 Name: Evan Maudsley
Race #: 753
IM history: My first – well not really – this is my 4th but the other 3 were 6+ years ago so definitely feels new
How has this journey gone so far: I have got the most out of the sessions that I can get done – but am undercooked on the swim. Does Ironman provide tug boats?
What are your thoughts about Busso: I just hope it's not scorching hot – raced a 70.3 here before Covid, and got fried. If I surface back on shore the race should go ok.
What are you most looking forward to: Getting back together with my Dad bod – we had a terrible breakup.
What are you worried about: What I'm going to do with all the spare time I now have – reading Christmas story books on repeat to my young son?
Favourite training session: Saturday long rides or wind trainer
Your go-to training nutrition: Caramello Koalas
What's for breakfast race morning: Probably toast – but have been enjoying Rice Bubbles recently.
How will you celebrate: See you at the bar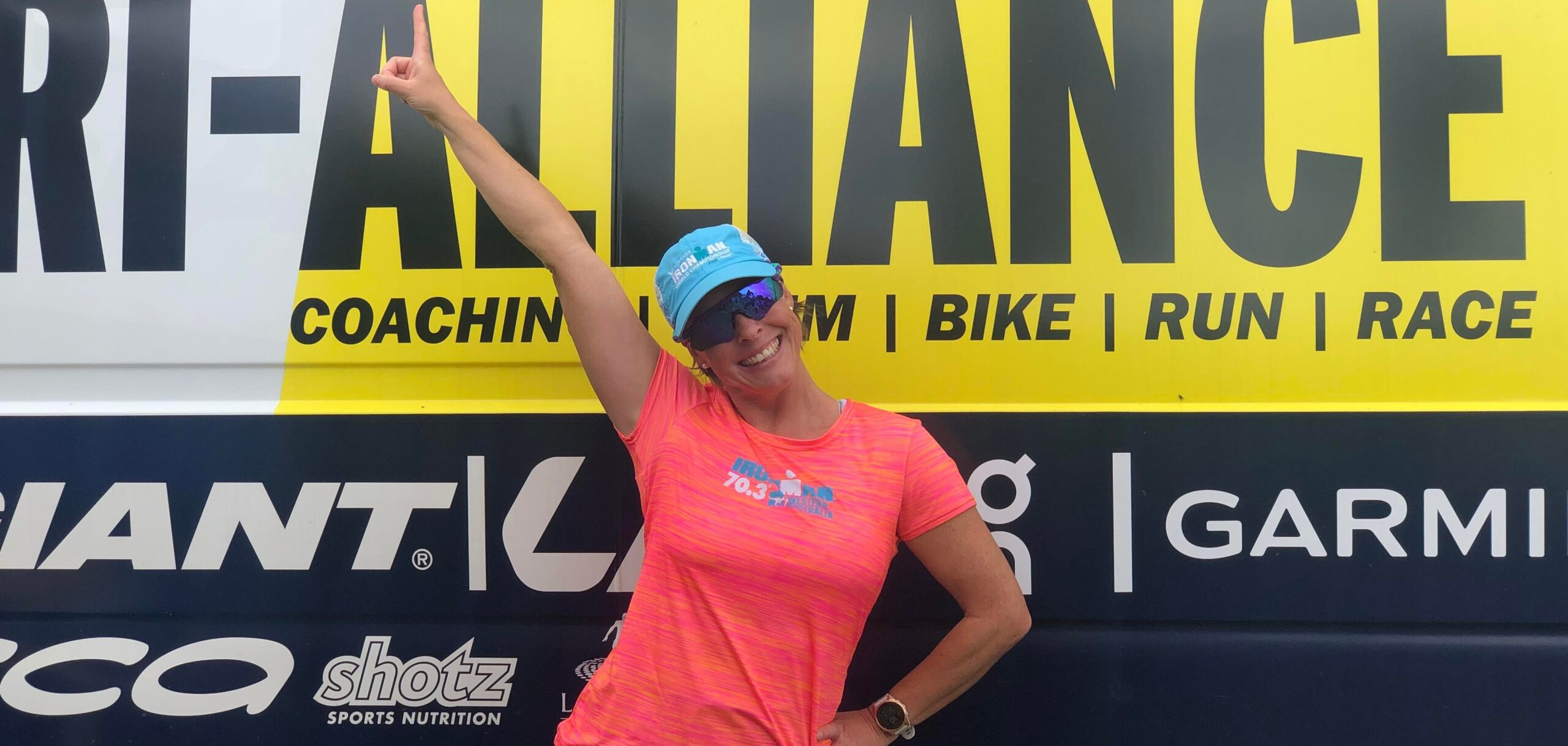 Name: Janine O'Grady
Race #1076
IM history: 3 x 70.3 (Busso, Geelong & Port Mac)
How has this journey gone so far: Pretty good. I signed up for this race in Nov 2021 & started my build post completing Port Mac in May. I had a couple holidays that interrupted the build slightly but my coach Greg factored these in and I don't think it's affected my build too much.
There has been highs & lows, times of not wanting to go to training sessions but I've had to drag my ass out and go, times when I've felt proud as I completed big distances I had never done before and towards the end experiencing Ironman brain (I had heard of this and thought I was doing ok until one AM swim set I thought I was doing 50's 45 mins into the session and we had been doing 200's the whole time – just ask Ollie, Gaz & Tilders they thought it was hilarious)
What are your thoughts about Busso: It's my home race. I did my first 70.3 here so it's special to do my first full distance Ironman here too.
What are you most looking forward to: Hearing "Janine, you are an Ironman" as I cross the finish line and those who know me…. the medal!
What are you worried about: I'm going to focus on things I can control instead of worrying about things I can't.
Favourite training session: I'd usually have high on the list open water swims but we have not been able to do any in this training build at all! So for this build it is: Saturday Long Rides, Hot Laps, Sunday Fairfield Runs & Tuesday Albert Park AM run sessions (and for me who running is my hardest & least favourite that's saying something to have 2 run sessions in as my favourite!)
Your go-to training nutrition: Infinite on the bike, Koda gels on the run
What's for breakfast race morning: Gluten free weetbix with banana
How will you celebrate: First Champagne then a mini stay with my besties in Margs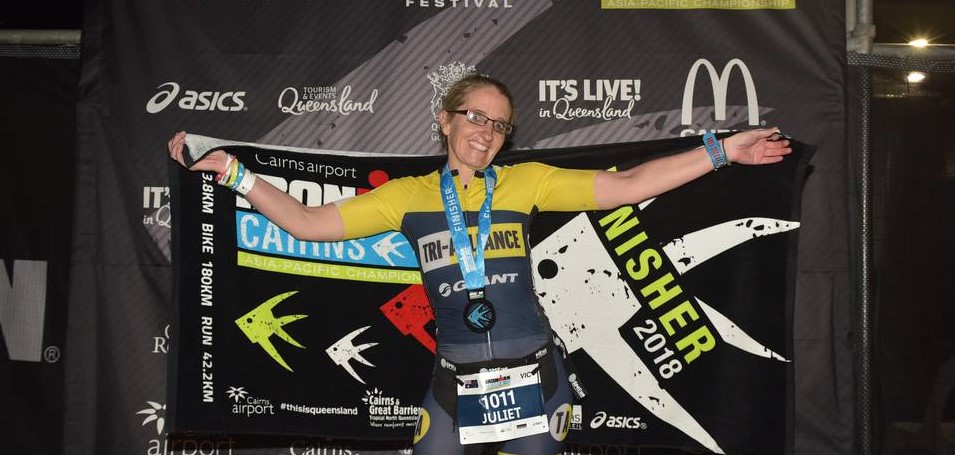 Name: Juliet Cooper
Race #1237
IM history: 6 Ironman finishers, Busso x 4 Cairns x 1 Melbourne Full x 1
How has this journey gone so far: Best Yet, most consistent training lead up for me ever. Spent more hours on the bike than ever before. More hours in the pool than ever, been working on my weaknesses. Excited for the race now as it's been a long time between drinks so to speak.
What are your thoughts about Busso: Busso always tests you even if you've done all the training in the world. Ironman is not supposed to be easy and even Busso being flat and fast will not be easy. It's hot, there is no rest on rolling hills, dead flat, the flies are horrible, the sun completely zaps you, the ability to be lifted up by friends & family is pretty hard on the bike course as spectators are few & far between. The run however is inspiring, exciting & joyous. I need to make sure I don't get to anxious on the swim, go out to hard on the bike & save my legs for the run.
What are you most looking forward to:  7 days with lifelong friends, travelling together doing what we love. Good food, exercise & celebrating that finish line.
What are you worried about: Cooking from the inside out literally.
Favourite training session: Ride! Funny enough 4 years ago I would have said run but I've done a lot of work to improve my ride so now I love to bike.
Your go-to training nutrition: Cliff peanut butter bar
What's for breakfast race morning: Oats, Almond Milk, Half banana sliced on top, Long black coffee
How will you celebrate: With friends & family, steak chips & an expensive bottle of champagne then red! Then of course probably enter Cairns 😂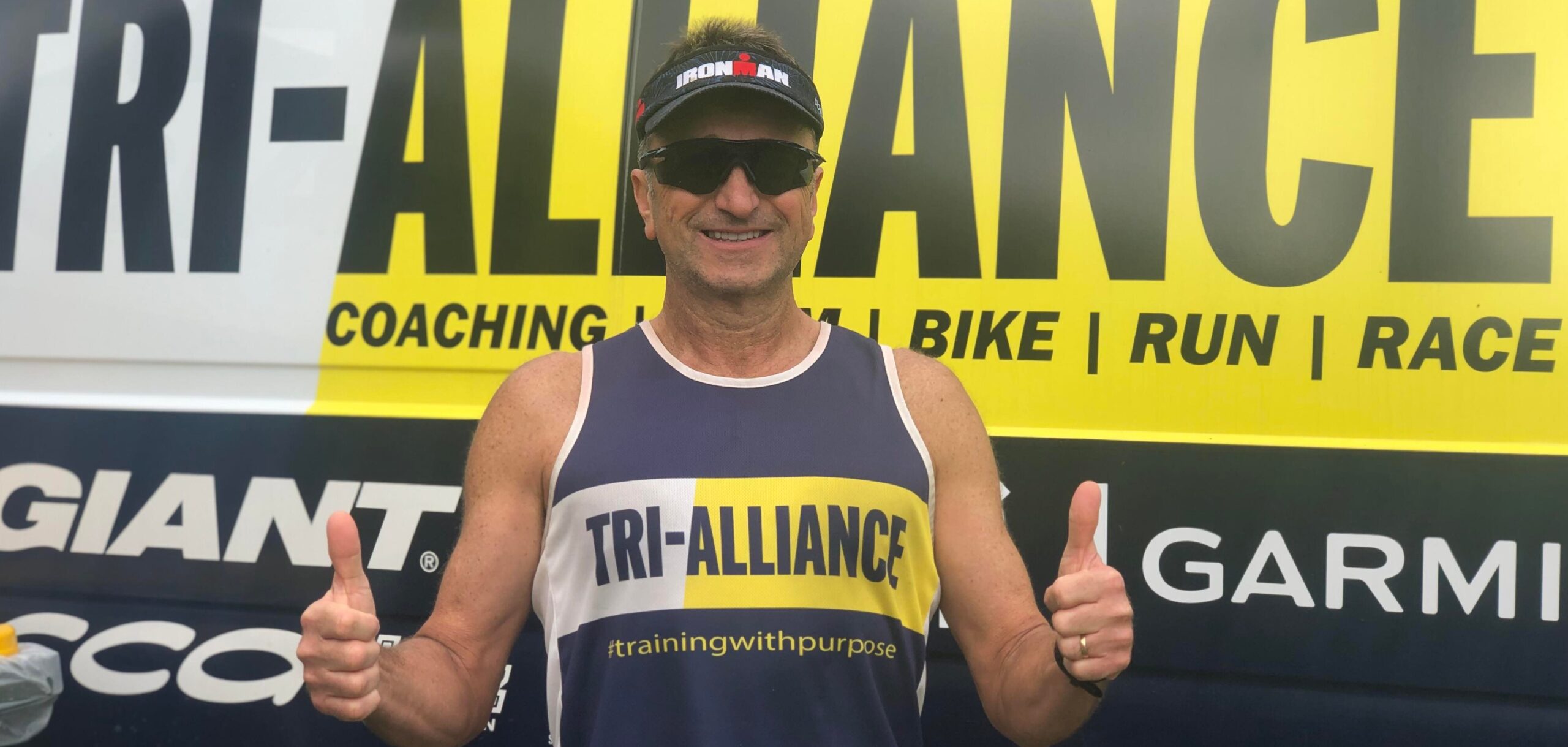 Name: Super Mario
Race #: 1332
This will be my fifth Ironman race. Busselton was my first 5 years ago when on the morning of the race as we were racking our bikes, an announcement came over that the swim had been cancelled due to a shark sighting.  Deflated and disappointed we went on to do the ride and run but knew that at the end of the day that we hadn't completed a full ironman. A few of us went to Cairns the following year and got the job done.
In 2021 I trained right through the build with my son Daniel and had planned to cross the finish line in a father and son finish when 2 weeks out from the race, after we had completed all the training, Victoria went into a snap lockdown and Daniel managed to get to Queensland in time but I missed the cut off and so Daniel ran the race on his own. I'm happy that he got to experience it but gutted that I couldn't share it with him.
Ironman can be the highest of highs and the lowest of lows but that's what we sign up for. Lonely long rides and runs, countless hours in the pool and lots of time away from the family but we all know what we are in for and the commitment shouldn't be entered into lightly BUT…… this is ironman, this is the challenge we want. This is where we find our limits and sometimes go past them. This is where months and years of training all come down to putting it all together on one day and that magical 30 second journey down the red carpet of the finishers chute. You can't buy that with all the money in the world.
So next Sunday, the swim where I know swimming will always be a work in progress for me especially while I am nursing a damaged shoulder, it will be steady as she goes. Onto the bike and it's all about being consistent , staying out of trouble and keeping a fair pace without cooking the legs. Onto the run, my favourite leg and realising that now this can all turn to sh.. really quickly. I always run to feel and am not too proud to back off if I start to deplete, also knowing that if I'm feeling good I may be able to crank it up a notch or two. With a possible pirouette at the finish line and blow a kiss to my inspiration who I know will be watching from above, my mum, who's gentle warm hand will keep me safe on the day, I will cross that finish line 5 years after I first attempted it, tying up the unfinished business from 2017  knowing I have given it 100%
Then check the race calendar for the next one. "Doh, sorry coaches"