NORTHERN COMBINE - ROAD RACING
Those who know me – know I have been riding my bike (a lot) over the past year. Having only come into riding about 5 years ago this leg of the Tri has always been the one that gets away compared to others in my age group. So large chunks of my time are now currently spent riding – building this leg to come back to Tri's much stronger than before (my swim and run I am not too far behind the quick men).
To that end, time on the bike and strength last season saw me ride 3 Peaks in March followed by bike legs at the Olympic distance at St Kilda and the Half at Challenge Melbourne. The winter was then a "what next?" – I like riding so let's keep doing it….with some road racing!
The Northern Combine is a group of cycling clubs that run road races through Autumn and Winter. These races happen mainly due to volunteers giving their time to ensure races run smoothly and safely. I know people who have raced them before and from chatting to them it sounded like something I needed to give a go.
Races are graded based on ability with some being Scratch – you are racing just your grade and some Handicap – your group is chasing/being chased. The races are held on open roads but very few cars use them – think You Yangs, Little River, Balliang, Kyneton, middle of nowhere…. The roads are dead, often exposed to the elements, not smooth so you have to work all the time even downhill.
My last race and third this season was a handicap – 3 laps of 25k. I was in grp 4 of 5 meaning we were chasing one grp ahead but 3 were going to be chasing us. The block headwind and rain on the opening 7k flat straight meant we had to work together, roll turns and keep close to avoid expending reserves early in the race. The square course then turned to a cross wind section before a nice punchy climb which started to stretch some in the grp. I raced the course a few weeks before so knew after the climb there was a wicked tailwind fast descent which was the go button for myself and another strong rider. The grp for us was too slow and we didn't want to hang-around and get caught from behind. Following this downhill we then had a 3k crosswind section of gravel….fun stuff with pot holes and the wind taking the wheels away from you occasionally….. The key was to keep the power down and weight low and on the 30-40cm wide "clean-line"!
Lap 2 was much of the same, plenty of digging into the wind and working together – my legs were feeling pretty good and I was well on top of my nutrition. As we came to the climb we were caught by the grp behind……damn…too slow…….this is where it hurt a lot. In handicap racing you can ride with those that catch you – if you can hold on! So that's what I did – busted myself up the climb then as a grp flying down the hill at 75kph was good recovery!
Lap 3 was more headwind to start but the roads were dry and sitting in amongst the faster guys was a relief. By this stage yes I had been caught by some who started behind me but I was pretty sure I was second on the road from my starting grp. This gave me the nudge to ensure that's where I finished. Catching more from in-front gives you that lift and with 6k to go it was the 3rd time round the gravel section so I knew that I could push along this stretch to the finish taking a few more on the way.
Crossing the line my legs were done but a great sense of achievement and when checking the results later, yes I was second in my grade and was in the top half of the 110 riders. Caught by some, caught some and stayed ahead of a lot. Happy and tired.
This type of racing has pushed me further and taught me to dig much deeper for longer and is something different from the norm. A couple of weeks break until the next one – slightly hooked!
Stats: 210w normalised power for 2.5hrs at avg HR of 153, avg speed 31kph topping out at 73.5kph. A fun time on 2 wheels.
http://www.northerncombinecycling.org
Pic at previous race with James McNab (former TA member)
THANYAPURA - THAILAND TRAINING
Our little rocket has been kicking some huge goals over the school holidays, taking her mum on a 'training' holiday to Thanyapura in Thailand.  From all accounts we've heard this little go-getter has been training the house down!  Nichola has been swimming, biking and running in paradise, working with the expert Thanyapura triathlon coaches to improve her technique and fitness in world-class facilities.  Can't help but say we're all a little jealous of this one!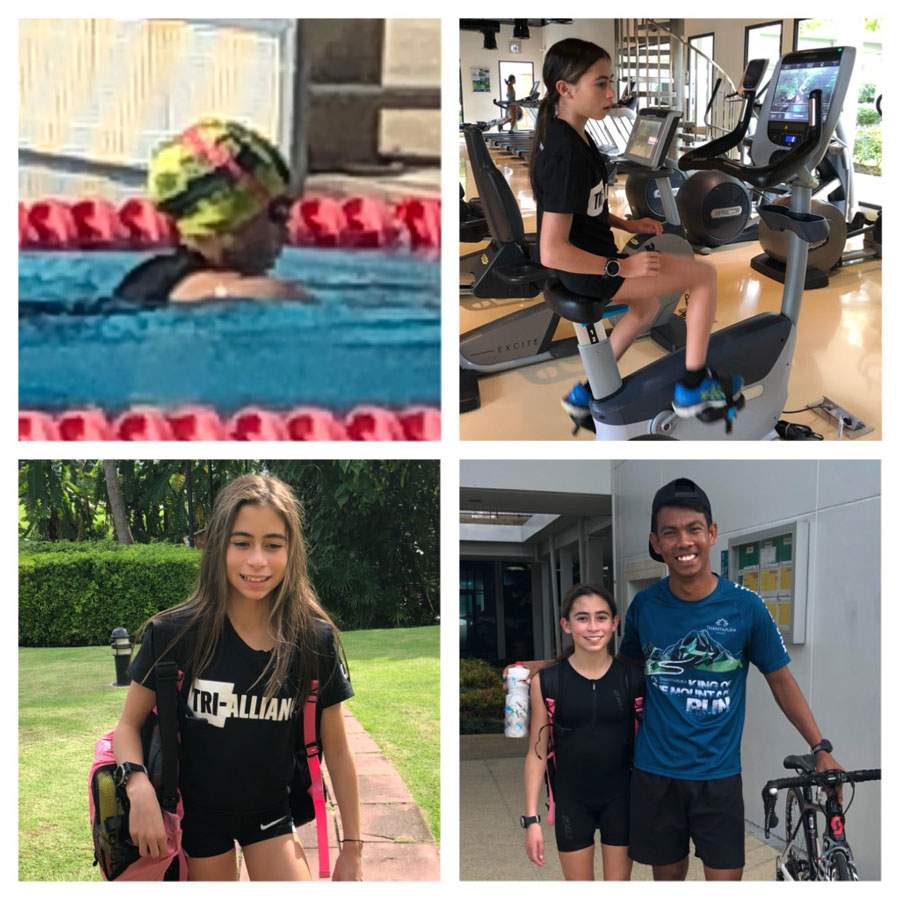 INSTAGRAM POST OF THE WEEK