And so the busy tri season continues! This weekend it was time for our long course athletes to shine, putting weeks, months and even years of hard work into action at Ironman 70.3 Geelong. We had a strong group of athletes out there with some doing their first 70.3 distance, others lining up for their second and some seasoned 'halfers' racing with serious PBs or personal goals in mind! Each and every athlete smashed their race and had a great day enjoying the near perfect conditions.  So many individual stories, but just to highlight a few; it was great to see Michelle and Georgia (racing alongside her dad, Geoff), out on course for their first 70.3.  Roisin, who had trained for this very event last year but had those plans altered slightly, completed her first 70.3 as well – we certainly admire her bravery and determination to get out there and achieve her goal!  It looks as though JP and Raph might train together for future races, with both of their times being within a minute of each other!  Our Ed-bassador was out there for his second 70.3 getting a PB and learning a few things along the way – be sure to read Eddy's race report for a full recap.  Carly also achieved a huge PB and raced with a smile on her face the whole way.  And it was nice to have Elle racing closer to TA home territory and for many TAers to meet her for the first time, and not forgetting Jane who snuck under the radar with a smile on her face and a wave the whole race!  We also had a great number of teams come together for the event with some racing their strength discipline and others stepping outside of their comfort zone and challenging themselves with something new. The energy and fun that the teams had was contagious and it was great to have so many involved!
But let's take a minute to send a huge CONGRATULATIONS to Trea, who is now on her way to South Africa later in the year, after earning a spot to the 70.3 World Championships!!!!  We are so thrilled for you Trea and know that you'll be doing everything in your power to get yourself ready to rock and roll for arguably the biggest race in your triathlon career.  Go Girl!!!
Congratulations to the following athletes on their races:
Jean-Phillippe Vaillant – 4:59:49 – 32nd
Raphael Labyre – 5:00:48 – 29th
Elle Brookes – 5:10:59 – 13th
Trea Harvey – 5:20:38 – 16th
Eduardo Oliveira – 5:20:53 – 52nd
Dave Gotts – 5:23:51 – 56th
Roisin McGirr – 5:44:19 – 22nd
Geoff Small – 5:47:26 – 54th
Carly Williams – 5:56:10 – 10th
Georgia Small – 6:28:38 – 9th
Michelle Paton – 6:32:06 – 26th
Jane Kahler – 6:37:38 – 27th
Teams:
Tuesday Trotts – 4:44:25 – 4th
Ye Imagined Play – 5:37:10 – 11th
Pete Not on FB – 5:51:53 – 14th
BubbleGum –  6:06:24 – 5th
LTA – 6:10:10 – 16th
A big shout out also goes to all the supporters who made the trip down to Geelong to cheer on their training buddies, there were nearly as many supporters as TA athletes and the energy at the TA Taj was strong all day long. All athletes (Tri-Alliance and otherwise!) could not stop raving about the support they received riding and running along the tri village from our crew.
Thank you to the athletes and supporters who stayed to pack up the TA Taj. We are so very grateful to the people who hang back to pitch in at each and every race (particularly those who had just finished racing!), you know who you are and it is the actions like this behind the scenes that make the TA squad the team that it is.
SOLE MOTIVE SUNSET SERIES – RACE#1
Late edition – Last Wednesday night, in soaring heat, Rachel Madden and Roisin Friel took on the first event of the Sunset Series at Melbourne Zoo.  The Run 4.8K and 8K courses allowed runners to wind their way through the Zoo and around the perimeter, providing some spectacular views and a few interested spectators!  And whilst the sun may have gone down but race start, it was still a hot and steamy run.  Roisin finished the 8km course in 39:44, finishing 12th in her AG and we think Rachel must have enjoyed the views and photo taking, finishing in 51:16.  What an experience!
HALF MOON BAY CERBERUS SWIM CLASSIC
Shout out to Chloe Turner, who participated in the 1.2km swim at Half Moon Bay this weekend.  She completed the course in 25:17, finishing 16th in the Open 19-29 female category.  The Half Moon Bay Cerberus Swim Classic at Half Moon Beach, offers 1.2km & 2.5km ocean swims in around a feature/island and around the buoys course formats. The event is a part of the Great Victorian Swim Series and this year was run in perfect conditions.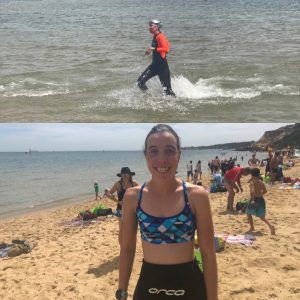 GEELONG CYCLING CLUB – SUMMER CRIT SERIES
Team Mervin backed up from their stellar efforts last weekend to have another go at the local crit racing scene.  Greg took the jump up to C Grade (after dominating D Grade last week) and had a cracking ride, coming in 4th place despite spending a few too many pennies on a couple of intermediate sprints.  And Georgie had her first crack at the sport, which is definitely not for the faint hearted, joining the D Grade group and learning what it's all about.  It's tough going out there, especially if you lose touch with the pack, and to her credit, Georgie hung in there to smash out a solid TT effort and complete the course.  We have a feeling there's more to come from this one!