2XU TRIATHLON SERIES FINALE - RACE #6 - ST KILDA
Winter showed up with a bang just in time for the final race of the 2XU Triathlon Series! Tri-Alliance athletes, however, were not deterred with more than 85 athletes repping the blue and yellow at St Kilda for the biggest race of the season…wow!!
After wild and woolly conditions on Saturday, the weather calmed ever so slightly for race day with temperatures still low but the rain mostly staying away and the wind not too gusty. With thousands of competitors racing across all distances, the Fun Tri competitors were off and running before the sun even thought about getting up, followed by the Olympic Distance and Aquabike with many athletes racing their first Olympic ever and others taking on their second for the season, followed by the Sprint Distance with many rounding out a strong season, and of course the kids getting out there including our own Harry and Erva!
OD: Congratulations to Alan Crawford for winning his first Olympic Distance (after an accidental entry), to Anthony for coming away in 3rd place with a speedy time of 2:06:47, and to Scotty, Jimmy and Steph for their first place as Team Tri-Alliance.
Sprint: Congratulations to our podium placers in the Sprint Distance with Georgie Mervin and Chloe Turner in first, Lindsey Berne and Tara Catterall in second, and Paul Burns and Andrea Stranna in third place.
Fun: Congratulations to Steph Anderson who placed first in her age group and second female overall in the Fun Tri, and to Lara Burns and Rachel Reynolds who placed second.
Special shout out to Les and Donna, and any others, who rang the PB bell nice and loud after their race on the weekend. These two, in particular, have worked quietly and consistently at their goals whilst always getting around their fellow athletes at training and on race day, and always putting their hand up to help out!
Full list of results can be found at: http://www.2xutriathlonseries.com.au/race-6-results/
2XU TRIATHLON SERIES - CLUB CHAMPIONSHIP
And finally, last but very much not least, Tri-Alliance were crowned CLUB CHAMPIONS of the 2XU Triathlon Series for the 2018/19 Season!! Woohoo! For a club who prides themselves on welcoming anyone and everyone, who is supportive of everyone achieving their personal goals whatever they may be and who most of all just wants their athletes to be happy and having fun with triathlon, this is a huge achievement with a lot of competition out there from some high performing clubs! We are super proud of every single TA athlete, whether you raced one or all six races of the 2XU Triathlon Series, regardless of points or podiums, this achievement is a reflection of every single one of you (yes, you!) because without you, we wouldn't have the club that we have, we wouldn't have the achievements that we do and we wouldn't have so many happy and healthy triathletes. It takes every single one of us to make a team and the culture that we have! Whilst many of us were mourning the tragic passing of fellow triathlete and friend over the weekend, it was a timely reminder that we are all so fortunate to be able to do the sport that we love and that we should not lose sight of this. In the words of our very own Gaz, "we do triathlon. We put three sports together, that's an achievement in itself and we should ALL stand proud in our achievements!" Thank you to Ollie and all of the coaches for supporting each of us to have such a successful season. Congrats team TA!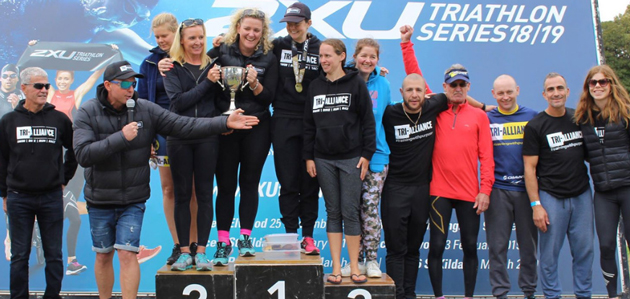 2XU TRIATHLON SERIES RESULTS
The end of the season also saw the crowning of Series Champions, congratulations to the following:
Fun Tri
F 12 – 13
4              Nichola MUSER
F 20 – 29
1              Stephanie ANDERSON
4              Anna BUTLER
M 30 – 39
1              David HOLM
M 40 – 49
2              Grady WALSH
F 40 – 49
1              Rachel REYNOLDS
7              Stephanie PURCELL
8              Alison ELDRIDGE
M 50+
4              Stuart MUNTZ
F 50+
10           Sue BURNS
2XU Series
Elite
3              Lotte WILMS
F Junior Elite (Senior 17 – 19)
5              Tegan BURNS
F 25 – 29
1              Sophie PERRY
F 35 – 39
7              Slaine O SULLIVAN
10           Lindsey BERNE
M 40 – 44
3              Anthony CUZZUPE
F 40 – 44
3              Juliet FORSYTH
5              Lisa ZILBERPRIVER
10           Georgina MERVIN
M 60 – 64
5              Barry GILBERTSON
M 65 – 69
4              Stephen BOND
F Athena
10           Janine OGRADY
M Multiclass (18+)
2              Monty COOPER
F Multiclass
2              Chloe TURNER