The beginning;
They say nothing good is easy or quick. True and true. My marathon journey started in 2012 at the tender young age of 48. Running a business with my phone ringing every few minutes I found running was a great escape where no one could bother me for half an hour a day while I had my favourite playlist hammering out and I could clear my mind. This became very helpful for my mental wellbeing, so I slowly increased the time I spent on each run. Before long I thought a marathon would be a good idea. At this point you need to know my sporting back ground. It didn't exist. The occasional game of squash or activity with the kids was as far as it went. Even back in school days when there was a sports day, I loved it because it meant I could have a day at home and the teachers might not notice I was away. Again. So I started running for a bit longer. I got to 17 km and blew out my knee about 6 weeks out from the marathon. I tried to downgrade to the half but it was sold out so I had no choice but to give it a go. I got to the start line with very low expectations of completing the race, but would give it a go. To my surprise I completed the marathon. 5:08. Slow but I felt a great sense of achievement and so marathons became something I stayed with and year by year improved my times.
Fast forward a few years and I stumbled across this club called Tri-Alliance. Everyone seemed nice, so I joined and soon went onto long coarse training under the supervision of the General, Greg Nugent. Around the beginning of 2018 when my marathon time was around 3:35, Greg said to me
"you know you have the potential to go under 3:00 hours don't you".
Laughing to myself but not showing him how ridiculous this sounded I agreed to aim for 3:10 at the next Melbourne marathon in October. It was a long shot but I figured if he had the confidence in me then the least I could do was give it a go. A gruelling training schedule began building up to over 90 km of running a week. Race day came and with his guidance and coaching, and Ollie appearing on his bike at around the 35 km mark, I made it to the line in 3:13. Ok, maybe Greg was right and I could build to every marathon runner's dream, a sub 3 hour marathon. Greg had planted the seed. Upon returning from the gold coast marathon in July this year, I crossed paths with Ollie at one of the team meetings where he congratulated me for running 3:16 on the Gold Coast. His next comment was" do you want to go under 3" Easy answer. Shit yer. And so it began.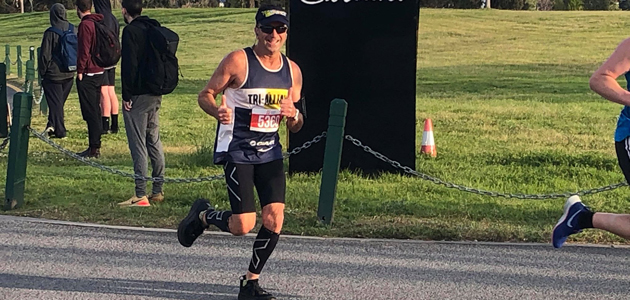 The training;
This was never going to be easy, I knew that. I thought this will be a lonely painful couple of months. I decided to give it everything. Stop most of the long rides on Saturdays, run 6 times a week as per the program, early mornings, eat better, swim more, so my recovery would be quicker, and give this cause everything it demanded – physically and mentally – without getting injured or burning out.
A few weeks in and all was on track when Ollie introduced me to a couple of other athletes from the club, Neda who was about to run the Chicago marathon and Enrique who was running Melbourne marathon with me. We were all around the same level and training suddenly became fun again. We did most of our sessions together and pushed each other to limits the three of us could only dream about. Neda would turn up with her big smile and watch programmed and Enrique with his positive attitude and calm nature. This made the sessions so much easier and way more efficient, sometimes running further and faster than what was on the program.
All was going well until I woke up one Friday morning after a hard Thursday night session and couldn't stand on my right foot. Ollie booked me in with Khan at Lakeside sports medicine where I was soon diagnosed with Plantar fasciitis.
"Ok, we need to stay on top of this" was Ollie's response.
Shockwave treatment and massage. My next lucky break came in the shape of Tri-Alliance ambassador and Kona qualifier Samantha Woodland who just happens to be a podiatrist that has treated me in the past. Again another athlete in the club with a positive calming attitude, she strapped my foot before a few runs, showed me how to do it myself and we even ran a couple of our long runs together, pushing each other through the pain while she was asking me how my foot felt.
A few weeks out from the marathon was the annual Queenscliff training camp. This was going to be a real test for my foot as the running volume would be cranked up to max, over 100 km of running that week and everything was holding together. At the end of Camp Ollie gave me the news of where he wanted me at the 10km and 21 km mark of the marathon. They were both faster than my fastest standalone 10 and 21km runs.
Oh dear, I felt like a 12 year old that wanted to pack their bags and run away from home.
I had great troubles trying to imagine myself at those splits and then the thought of only being half way in the marathon and having to do it all again was mind boggling but I decided to stick to the program. A few more weeks of solid training and no more injuries, some fast sessions with Neda and Enrique and Samantha and it was almost time to race. We had all trained hard and had been very disciplined and although I am a glass half full person, I felt I wasn't quite at sub 3 hour marathon pace yet. When I told Ollie this, his answer was simple,
"make no mistake, we are going for sub 3″
Ok, this guy has the faith in me and like I did with Greg, I needed to give him that respect and have the same faith in myself. I would go for the sub 3 but I thought it was a high risk strategy going out that hard, but these guys know what they are doing. The program was designed to be strong on the second half of the race.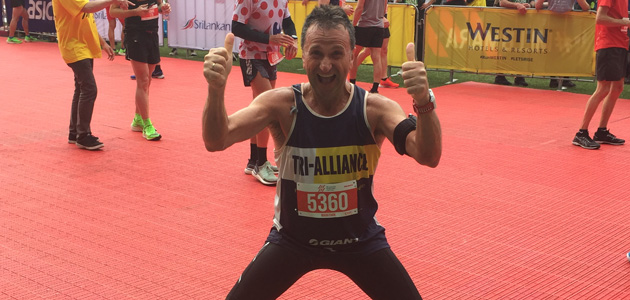 Race day
Here we are at the start line. Nation anthem played, countdown is on, helicopter down low, the smell, the sounds, the nerves, there is nothing like the marathon start line. A big hug from Jo Wood-Rich and a high five from Rob de Castella and it was on. Go out at 4:00 to 4:10 pace was the word from the coach. At around 5 km Ollie appeared on that bike again. Thumbs up – meant I was on target. He popped up at 10 km. 41 minutes and exactly where he wanted me. There he was at 21 km 1:27, again , exactly on track.  This felt great, body felt good, mind strong and there they were, Tri-Alliance athletes popping up everywhere to give me support. Not more than every few kilometres, I would see another familiar face with a big thumbs up or a big cheer that drowned out ACDC playing on my phone. This was so special and very uplifting.
The strategy was to stay in from of the 3 hour pace group until around 32 km. This went perfectly to plan. At the bottom of Fitzroy Street where you are confronted with a big hill, I let them catch me and jumped into the pack, getting a good solid run up Fitzroy Street without dropping the pace. Turn into the gardens and there is the boss again, on the bike, coaching from the footpath and even getting me a red snake from a spectator as I was running low on gels.
"Small steps mate, small steps.  Then over this hill you need to open it up and start pushing it.  You have about 1 minute up your sleeve"
Ok stay with the plan. 37 km mark and the pacer is pulling away from me and I am having trouble holding this pace. 38….39…. and now the word is from Ollie "mate you need to go for it now, you are right on the limit". 40 ….  41…. and I am giving it everything I have. Just about to get to the MCG and the final instruction is this,
"Mate, you need to go for it.  You have about 2 minutes to run the last 500 meters"
Shit!  That's under a 4 minute km.  That's faster than I can normally run and now I have nearly 3 hours of pain in my body. Ollie peeled of and gave me a final "go for it mate".  Numbers  rushing  through my head as I enter the MCG and see the 400 meter mark, look at my watch and it is about to go 2:59. I am in danger zone, giving it everything I have, look at my watch again and it's about 20 seconds short of 3 hours and the finish line is now in sight.  I can hear my name being called out, but don't dare look up  Final sprint and cross the line!
I am absolutely shitting myself.  I have either just made it or just missed out. I am too scared to look at my watch. I spot Stephen Bond who comes down and is smiling from ear to ear. Does that mean I made it? Not really, this guy is always smiling. My watch buzzes again and I look at the top half of it only. It is a message from Michelle Grocock and it reads :" YOU F*#@ING ROCK  STAR". Still too terrified to look at my watch properly, I look up and Janine O'Grady is racing to the front of the barriers frantically pushing her way to the gate waving her phone in the air holding it up and showing it to me.
It's official 2:59:53. I made it by 7 seconds. A small tear may or may not have been shed at this time.
What can I say but thank you to Greg and Ollie for helping me live my dream. Greg planted the seed and then the two of them helped it grow. Thank you to all who helped me along the way, Thank you to the volunteers on the day, thank you to all who came out to support me on the day, thank you all for the messages of support before and after the race, thank you to my running buddies who were there every session, thank you to my wife Karen who always wants the best for me and loves seeing me achieve.
This was a team effort that I could not have done alone. What I can say is to anyone who thinks they can't do something they want to, be it marathons or anything in life, just go for it. It may take a while but if you really want it, it can and will be yours.
When a coach tells you that you have the potential, stick to the plan they give you.  Don't question it, don't question yourself, just be hungry for it.  Surround yourself with the right people, and anything is possible.
And to finish with, I will quote the person who has given me inspiration like no other,
"It's all about the company you keep" ~ My mum.