| Athlete | Race# |
| --- | --- |
| Hannah JONES | 210 |
| Raphael LABYRE | 559 |
| Jean-Philippe VAILLANT | 878 |
| Simon GRONOW | 970 |
| Ashley PURCELL | 1275 |
| Mario STAFFIERI | 1284 |
| Caroline HOUSTON | 1344 |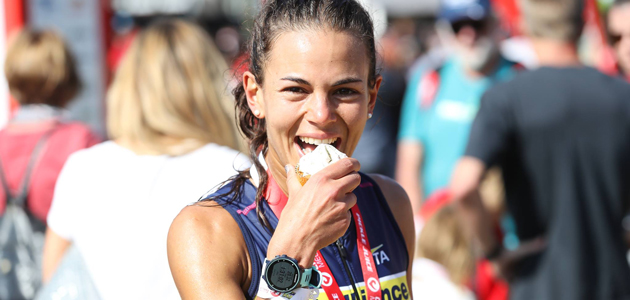 Name: Hannah Jones
Race #210
Next weekend, I'll lace up my Nike shoes, having eaten my white toast and done my nervous poos!
Palm Cove is the start line, a picturesque spot, Fingers crossed for perfect weather- not too hot!
Wearing my tri suit, looking the part, faking it until I make it, hoping for a good start.
The crowds and the atmosphere will be so great, Like the (hopeful) feeling of finishing at the IM gate.
I've trained so hard for this, so I'd like to have fun, keeping a look out for all the TA lyrca covered bum(s)!
I'll try not to fall over- I'll be in full view, remembering to pace myself and eat an energy chew.
Visualising that bling, I'd like a medal for the wall, But I'll smile, high 5 others, enjoy the views- and have a ball.
When the 42.2km is over I'll be sure to celebrate, with copious beers and pizza, shared with my TA mates.
Ticking off my FIRST IM is really quite the feat, Having the support of the Cairns crew will be hard to beat.
I'm doing this for myself, and for those who have helped me push, But I'm signing off now before there is too much gush!
Good luck to everyone racing! See you OUT THERE!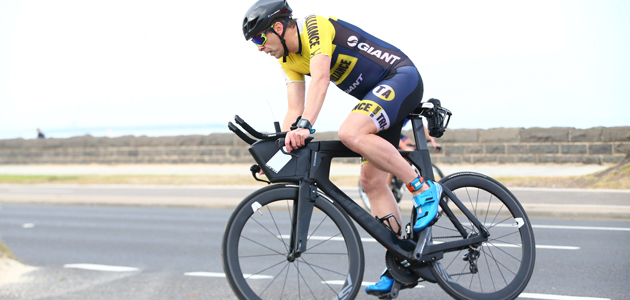 Name: Simon Gronow
Race #970
Fun Fact about you: Playing games with my Grandson
Your IM history/journey? Few Mini's, bunch of sprint distances, 8 Olympics, 8 Half IM's and bunch of others such as Escape from Alcatraz
How has your training gone for this event? Great long slow build since January following Ollie's coaching program
What are your thoughts about IM Cairns? I raced the 70.3 a few years ago, I know most of the course and seems perfect to tick the IM box
What are you most looking forward to? Sleep in – been long days over the last few weeks
What are you worried about? The Run – not really a runner
Favourite training session? Long rides on the TT with good buddies
Best training nutrition? stick to your program
One piece of advice for IM athletes? Get good training buddies and trust the program and be consistent and keep it happy
What's for breakfast race morning? Nothing too heavy
How will you celebrate? Beer with Team Mates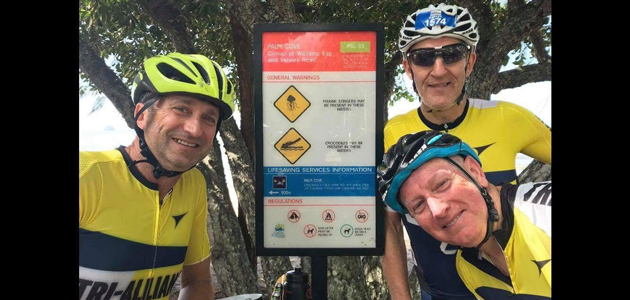 Name: Ash Purcell
Race #1270
My Ironman journey began 25 years ago when I watched Greg Welch become the first Non-American to win the Ironman world Championships in Kona.  I always knew this was something I wanted to do.  Skip forward 25 years and here I am lining up for number 3.  I'm looking forward to catching Mario on the bike and him catching me on the run, oh and finishing.  I bet you didn't know I was once in a previous life a grunt (an Australian army Infantry soldier).  I love a man in uniform. The thing I love the most about the Ironman journey is the friendship(s) that have helped me become a better version of myself.  These two knuckleheads have been there with me all the way.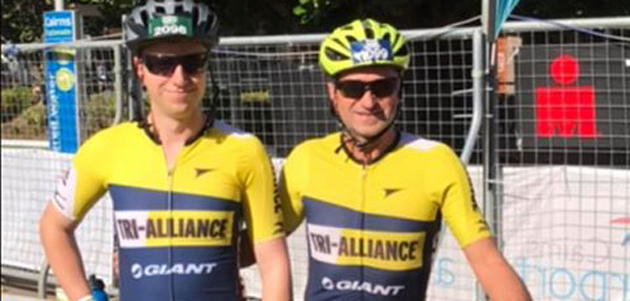 Name: Mario Staffieri
Race #1284
Fun Fact about you: I like to think I'm a pretty easy-going tradie who has stumbled into an activity that I love and found an awesome group of likeminded people that make me laugh, are fun to be around and are some of the most determined and focused people I have ever met.
Your IM history/journey? I have competed in 3 Half distance races and this will be my 3rd full distance ironman
How has your training gone for this event? Training for this event has gone very smoothly. I'm fortunate to have had no injuries or major disruptions to my plan, it has been a great build.
I competed in this race last year with some great friends and before we left to come home, a few of us had decided we had enjoyed it so much that we would come back and do it again this year, so here we are.
What are your thoughts about IM Cairns? This year I am again doing this race with my son Daniel who is doing the half distance. I feel extremely fortunate and proud to be racing in this event with my son. A father and son team is a dream come true for me and especially look forward to doing it again this year with Daniel.  I'm no way as nervous as last year but I like to feel a little nervous, as I think it shows you respect the challenge ahead.
Favourite training session? Swimming has always been a work in progress for me. When I started triathlon, I couldn't swim 600 meters. A couple of years of persistence and frustrations and excellent coaching is just starting to pay dividends now and something I thought I would never say is that now swimming is one session that I really look forward to… The other reason I love it is the fantastic group we have formed from our early days at St. Michaels to moving to MSAC and being in different lanes, we have kept and strengthened our bond to each other. They are an amazing group of friends and some of them are doing Cairns 70.3 with us and I just can't wait to see them live their dream next Sunday.
One piece of advice for IM athletes? My advice to the first timers in this race and in most things in life is to not over think things. I have been guilty of doing it myself and now make a real effort to not overthinking things. It's never as bad as it seems so don't be drained of energy stressing about something that might not even happen and even if it does, worrying about it beforehand will only add to the difficulty to overcome it.
What's for breakfast race morning? Breakfast race morning will be whatever I can get my hands on. It's a few hours from wake-up time to race start time so keeping the fuel coming in for me is important. I will start with cereal and Yoghurt, fruit, probably a muffin or two and then carry bananas, bars gels, to consume until race start.
How will you celebrate? Celebration will probably be low key for me. We will probably have a dinner together with Daniel and my other 2 kids, Olivia and Christopher and of course my number one supporter who will be cheering her husband and son on all day, Karen.