Welcome to the 19/20 triathlon series.  Now with 6 Metro Races!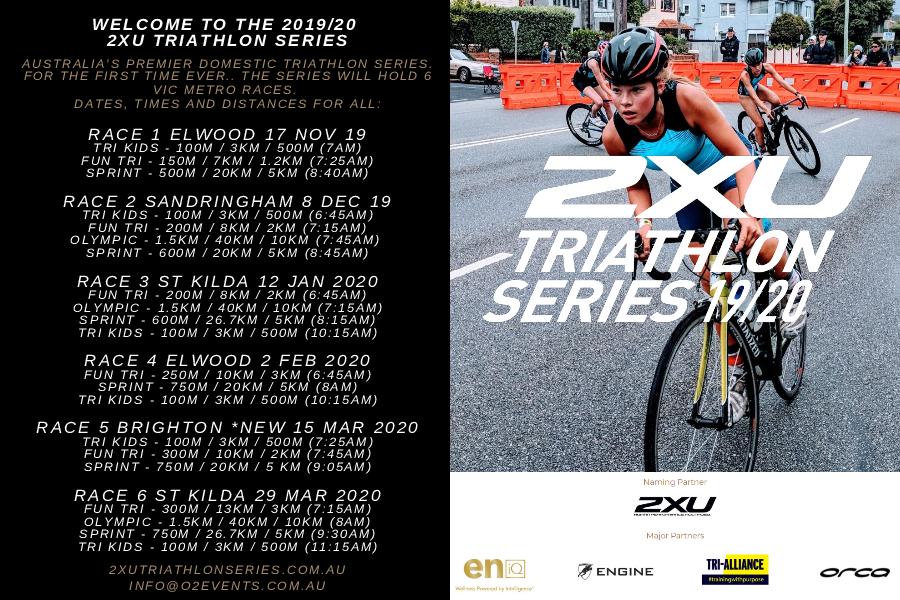 Sprint Series Triathlon
2XU Triathlon Series 2019/20 welcomes all who wish to challenge themselves over the summer with entry to the Sprint Distance triathlons (Race 1 – 5), building to an Olympic Distance in Race 6. Additionally, there are also Olympic Distances at both Races 2 and 3, as well as a Sprint Distance at Race 6 (although these events do not contribute to series points).
Fun Tri
The Fun Tri Series welcomes triathlon beginners of all ages. Develop your ability over this 6 race series. Distances grow over the series to help participants achieve their goals. Family and friends all welcome! Minimum Age 12.
Kids Tri
The Kids Tri is a great introduction to triathlon and welcomes all kids to give it a go! Distances will grow with confidence in swimming, cycling and running. Kids must be the ages 7 to 11 on event day.
6 Race Series Entry
Never has there been a better time to enter all 6 events before race 1.  When Entries open, there will be Early Bird Price for August Only, saving $50 off standard series entry pricing.  This pricing increases each month, so it's worth committing early. Further information can be found here – Series Pricing

Registration Opens Wednesday 21 August @ 10am
Tri-Alliance Athlete Registration
We've got Tri-Alliance set up in Register Now – ready for our athletes to enter as part of our Squad and receive their 20% discount!  Follow the directions in the link below to secure your spot on the start line of the local race series!