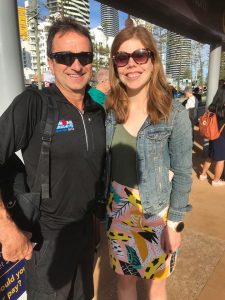 The 40th edition of the Gold Coast Marathon was held on Saturday 30 June – Sunday 1 July 2018 on the beautiful Gold Coast in Queensland.  The world class international marathon attracts 25,000 participants of all ages and abilities from over 50 countries across eight races including the Gold Coast Marathon, Wheelchair Marathon, ASICS Half Marathon, Wheelchair 15km, Southern Cross University 10km Run, Gold Coast Airport Fun Run, Garmin 4km Junior Dash and Garmin 2km Junior Dash.
Its famous flat, fast and scenic course located alongside the city's renowned surf beaches and stunning broadwater plus ideal winter running conditions featuring low humidity, little wind and mild temperatures result in 60% of participants achieving personal best times each year.
Samantha Woodland – 21kms in 1:31:49, finishing 18th in her AG out of 553 girls!
Mario Staffieri – 42kms in 3:16:12, finishing 23rd in his AG out of 238 lads!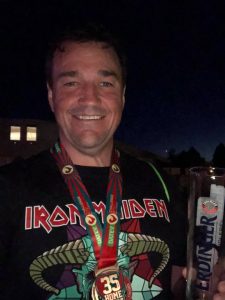 Challenge Roth is the world's biggest long-distance triathlon event, taking place on July 1, in the German city of Roth.  About 3,400 individual participants and 650 relay teams from 75 nations, and around 260,000 spectators will descend on the city.  The race has long become a legend, celebrating its 35thanniversary this year.  The race starts with a 3.8 kilometers swim in the Main-Donau-Canal, followed by a 180 kilometers bike ride and a marathon run of 42 kilometers. The winner of Challenge Roth will probably cross the finish-line in less than eight hours this year. The unbelievable world's best time established by Jan Frodeno in Roth in 2016 was 7:35:39 hours.
Dave Nealon went into this event with a good base of training under his belt, but unfortunately suffered an injury a couple of weeks ago.  But, he successfully completed the Challenge of Roth in 14:10:51 (swim 1:36:41 / bike 7:02:50 / run 5:13:46).
I'm in after a long day. Blew up on the bike, tore my right calf at the 10km mark, so put the weight on the left instead, that made my left calf tear around the 16km mark. Was still able to keep moving just in a lot of pain but made it 
😉Now if only I could find my wife!
Since 2001, the 2XU New York City Triathlon has become a time-honored summer tradition. The city becomes a stage for Olympians, Paralympians, veterans and aspiring amateurs alike to push their limits in the center of the world's greatest stadium. Nothing says New York more than the Hudson River, the West Side Highway and Central Park!
SWIM: The point to point 1500 meter swim starts on Manhattan's Westside at 99th Street and the Hudson River. The swim is a time trial start. Athletes swim south and exit just north of the 79th Street Boat Basin before running into transition.
BIKE: The cycling course exits Riverside Park at 79th Street. Athletes enter the northbound entrance of the Henry Hudson Highway, staying in the right lane. Athletes will continue on a moderately hilly course north out of Manhattan, over the Henry Hudson Bridge.
RUN: Runners will exit Riverside Park at 72nd Street and into Central Park. Once entering Central Park, athletes will run in a counterclockwise direction. Runners will proceed along Center and East Drives, then turn left at 102nd Street Crossing before heading south on West Drive. The Finish line is located on Dead Road, just west of the band shell off the 72nd Street Transverse in Central Park.
"Hello TA family! Mark and I are less than 24 hours away from the start if the 2018 NYC triathlon. Not sure about jumping into the Hudson River (see warning sign) but it will be a great adventure! Approximately 4000 triathletes including our little team from South Bank. Happily, we have early wave starts (6:02 and 6:04 am) so should be done and dusted by 1030h Sunday NYC time (half past midnight Sunday in Australia). Will keep you posted!!
Results:
Jo – 3:05:54 and 10th in AG
Mark –  3:18:56 and 39th in AG