IRONMAN WESTERN AUSTRALIA
A stalwart of the Asia Pacific triathlon scene since 2004, IRONMAN Western Australia takes place in the scenic town of Busselton, in the south-west region of the vast state of Western Australia. Incorporating the iconic Busselton Jetty, IRONMAN Western Australia is renowned worldwide for being the place to go for a personal best, with the bike and run courses amongst the flattest on the global IRONMAN circuit*.  This year, we sent across 12 athletes, with 6 of them looking to become first time IRONMANs.  We had 2 athletes completing IM  number 9, The General clocking up Busso number 10 and some experienced IM racers.  The day started well, with 5 athletes exiting the swim in top 10 positions, Jez had a cracking swim breaking the hour barrier and 3 more athletes completing it in bang on 1 hr!  After that, we had 3 athletes coming off the bike in top 10 spots and Fleggo doing the best of the group smacking out a 5:01.  We also had 2 athletes with the 2nd fastest times in their AGs and many others sticking to their numbers/plans and ticking it off.  Georgie had the fastest run time in her AG  and Jez matched her on time.  We had others learning what it felt like to run a marathon at the end of a day's work, negotiating those demons that inevitably sneak in.  At the end of the day, we had 2 podiums, 1 Kona Qualifier, loads of individual PBs and the best part of all…..H A P P Y athletes (and coaches) all round! Couldn't ask for anything more.

Michelle:
Another awesome Ironman event completed on Sunday in Busselton, WA.  Whilst I knew going in that my training build hadn't been anywhere near what I would have liked, as it turned out the race proved to me that my endurance fitness remains a real strength. I felt strongest on the last 40km of the bike and, as always, my run just got better and better as the race progressed. This race ended up being nothing to do with my fitness, but all about getting some of the logistics and technical equipment side of things in a better place, otherwise these can turn into detractors on the day.
Eddy:
What a day! What an experience! Another dream that became true!  I can't thank enough my Tri-Alliance Victoria club/family (those who were here in Busselton and also the ones in Melbourne. I'm humbled by your messages, support and attention), my coaches Ollie Allan, Greg Nugent, Dan Weekes, Scott D'Aucourt and Daniel Brueckner, my IM training buddies Stephen Tilders and Jeremy Robinson, my friends from Melbourne, my family and friends in Brazil and, my partner Jo Hanna for the support in this Ironman! These people made this day possible and unforgettable. I could never get this far alone… never! You are fantastic human beings and I'm very very lucky to have you in my life! Lots of love for you all!
Jules:
Ironman #6 Busselton was booked in January to do away with the demons of the dnf of 2017! 2017 Busso was extraordinary due to Bush Fires, Kangaroos, Sharks, cancellation of swim & for me illness! 2018 was a long slow grind as my training lead in was inconsistent to say the least! With limited training and lots of travel I knew I was in for a long day! My coach  Greg Nugent said in his post that mental discipline would be needed & I kept thinking about this on the bike! I had discipline & I was mental for doing this. My slowest result yet but it was to be expected given my lack of training. As our coaches at Tri Alliance say "respect the distance".
Pammy:
I am in awe!  And officially an IM! What a journey ! Ollie Allan my gem ? of a coach #trialliance , I owe this one to your amazing coaching ! The program works ! You just know how to get the best out of your Tri Alliance Athletes.  Race day :Had no expectations from myself but to keep it happy and moving . As that was my moto from the time go. Keep moving ! Keep it happy .
IRONMAN 70.3 WESTERN AUSTRALIA
IRONMAN 70.3 Western Australia was staged alongside the IRONMAN on Sunday morning.  Huge congrats to Richard, Fik and Liza who all smacked out great 70.3 events in picturesque Busselton!

Richard:
Well just missed out on the sub 6 but a PB all the same. Best swim time ever came at a price tho, neck buggered. Hoping nothing too serious, don't need another stuffed up disc. Next stop Geelong 70.3. Looking forward to a relaxed two weeks.
Liza:
What a wonderful way to see some of the awesome beaches Western Australia has to offer.  A magic helmet, shirts with my name on them and another medal for my hopefully growing collection.  Loved every second of this weekend with great people and an amazing event! Thanks #ironmanwesternaustralia2018 I had a blast!
Well, what can we say….nothing like the conditions in Busso!  Choppy, windy, wet, miserable which is why these two ladies are 10 times more badass than most of us!  Huge shout out to Slaine and Nichola who braved everything to take part in  Sufferfest Safety Beach.  Slaine finished in 2nd position for her efforts and Nichola in 1st place for the SSV Juniors in her first draft legal race.  Yay you two and sorry we don't have many pics to post.  We heard it was too horrendous for supporters to even think about it!  Yes, we know that photo looks sunny, but it was a lie.  Just ask Slaine!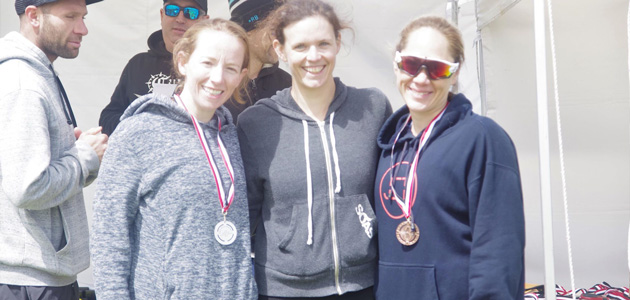 The Carman's Women's Fun Run proudly supports Breast Cancer Network Australia (BCNA) and is all about having fun while running, jogging or walking.  It's a time to get together with friends and family and have a great day full laughter and good times. Thousands of participants turned up to St Kilda in pink on Sunday to support this great cause.  And it looks like an annual event for our gals too, with these lovely ladies taking to the course yet again!
Kerry:
Today was Baby Draggaz first fun run!! New 5km record for the slowest 5km ever ran/walked but so many laughs and so much fun! And meeting an Aussie sporting hero just topped it all off!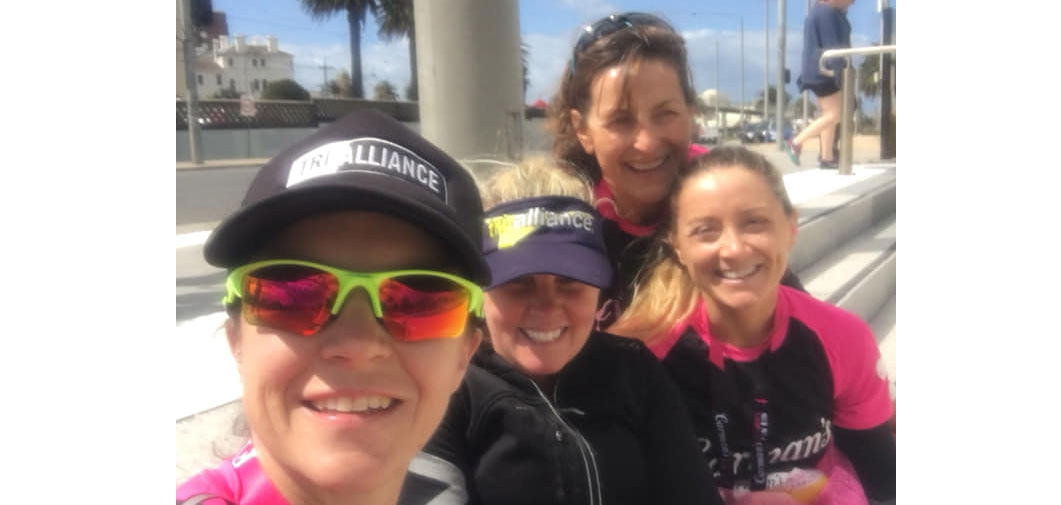 INSTAGRAM POST OF THE WEEK