"It was a wet and gloomy start for the annual race but that did not dampen the spirits of up to 2400 participants.  Swimmers hit the water just before 6am with a sea of family and friends cheering them on from the shore on as they embark on a 19.7km swim from Cottesloe to Rotto.
Supported by hundreds of paddlers, skippers and crew, participants have the option of traversing the distance in teams of four, duos or as solo swimmers.
Depending on conditions, the average solo swim will take on average six to eight hours to complete.  Organisers say this morning's conditions were ideal for swimmers and skippers with light westerly winds." (News report by perthnow.com.au)
Let's hear what our athletes had to say about their adventure…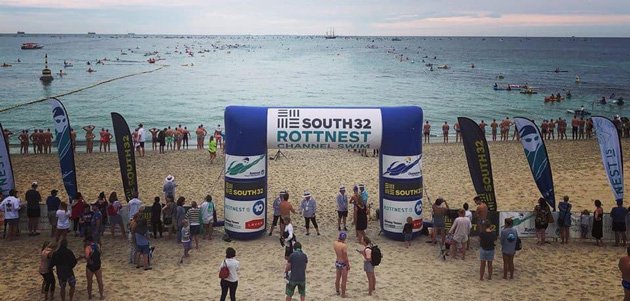 Simon:
They say what doesn't kill you makes you strong. Well we certainly where out of our comfort zones. a true 19.25km open water swim team is one. First off no wetsuits or watches. A triathletes worse nightmare. Next you swim a lot. Next you have an awesome crew skipper Daniel , paddler Jamie great team mates. And wonderful deck hands. You need to find like minded group thanks all at bows. Then long time friends who live in Perth come out to see you off. Then your half way there. I started today first objective is find you paddler next find your boat 1000's of them on the water. Once you have these then you can start heading to rotto. Apart of 1.something km swim and about 800m at the end we all 4 of us where in and out of the boat every 5mins. Best bit we passed all scheduled time markers a head of time listed and we all 4 swimmers got to finish together.
Thanks to Em for keeping everyone informed how we went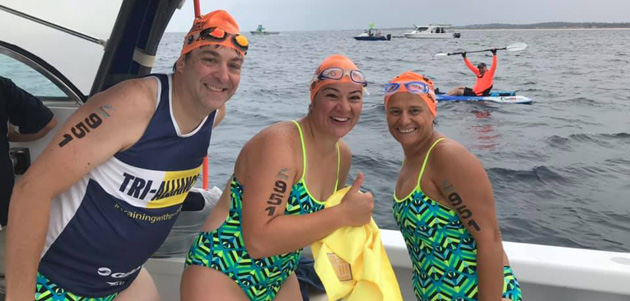 Pammy:
What an amazing journey #Rottness Chanel crossing 19.7km with some awesome like minded people Fikriye Sukru Simon Gronow Lani Smith. Many to thank Ollie Allan #trialliance for the pool and open water 🏊‍♀️ sets and mentoring. Peter Hendriks from #BOWS for OW swims and organising the skipper Daniel and Jamie Clark and mandatory logistics . Sami Sir #beyondzone for strength programs and the amazing work of physios. Hubby @ IronSam Tunas a wonderful man, mentor , cook , driver and much more. Couldn't have done it without you .
And thanking the Friendly BOWS swimmers for welcoming us . Special thanks goes to Emer Patricia our support crew as decky on board and Chris Ormston for the support on the start line .
It was a season of taking a break from IRONMAN training on coaches instructions .
Loved it all ! An iconic memorable event .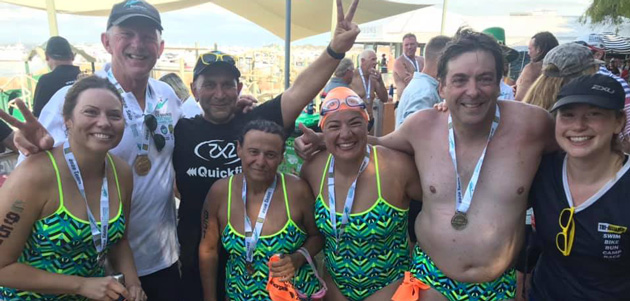 Fik:
What a memorable day and experience to have ticked off 19.7k Rottnest swim as a team. Couldn't have done it without the team and support crew. You guys rock.
Congratulations to all the solo swimmers, inspiring stuff you do and what an accomplishment.