INAS WORLD HALF MARATHON CHAMPIONSHIP
On Sunday 21 October, Monty and Chloe represented Australia at the 2018 INAS World Half Marathon Championships in Coimbra, Portugal.   The championship for athletes with an intellectual impairment was being run in conjunction with an annual mass participation event that was expected to see a field of over 7,000 competitors running through the historic city of Coimbra.  A large number of athletes from 8 countries (Australia, Brazil, Italy, Japan, Poland, Portugal, Spain and the USA)  competed in the INAS World Championship events.  Michael Thomson  (Project Manager from Sport Inclusion Australia) released the following via email Monday morning:
Great news overnight from Portugal with the Australian Women's team of Chloe Turner, Georgia Powning and Montana Whiteley taking gold in the women's team event at the INAS World Half Marathon Championships.  All 6 team members completed the event in hot and humid conditions.  The men's team of Harry Mezger, Monty Cooper and Carlo Manolitsas finished 4th in the men's team event.  It was a great result for the team.
"Five months ago we embarked on this journey together. The athletes trained through all conditions, hot, freezing, hail and never missed a session, injury plagued us for a couple of weeks but all bounced back for the race today.  The thrill of representing your country is the greatest and we now have a team of women who are World Champions."  Liz Gosper (Head Coach/Manager).
Thank you to everyone who assisted the team on their Journey.
Huge congratulations from all of us Monty and Chloe.  What a fantastic event to be part of and an amazing experience for you both.  And well done to Juleit for not only putting her hand up for accompanying duties, but to also run the half marathon on the same course.  We liked your cheeky post:
"Chasing Monty Cooper… some might suggest I caught him 😉😍 It was humid….probably never happen again so need to post this historical moment!"
Can you believe how close those times were?!?
YARRAWONGA MULWALA MULTISPORT FESTIVAL
The Yarrawonga Mulwala Multisport Festival was held over the weekend.  This years events included World Qualifying Event (WQE Non Draft Standard distance) to be in the 2019 Australian Age Group Team at World Championships, Lausanne, Switzerland, and Selection Event for School Sports Victoria (SSV). Also, on offer on Saturday were Non Draft Sprint and Mini Distances and Fun Runs on the Sunday.  The YMMF caters for all ages and abilities, making it a great weekend away for the whole family.
Barry made the trip up the highway to compete, and after solid preparation, he finished 3rd in his AG in the Olympic Distance race Well done, Baz!  Great to see your hard work paying off 🙂
RESULTS:
Barry GILBERTSON Time 2:33:09 | Swim 1.5km 00:29:09 | Bike 40km 01:11:03  | Run 10km  00:49:07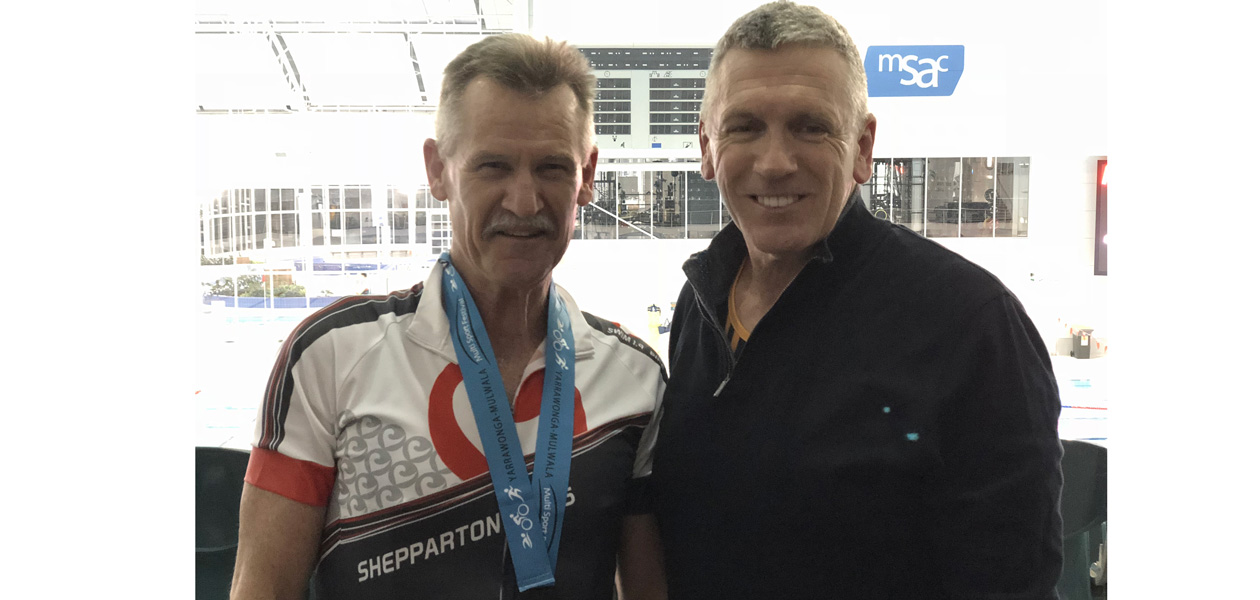 INSTAGRAM POST OF THE WEEK