We are knocking on the door of the 2018/19 race season and are ready and raring to make this one our biggest yet!  We are thrilled to continually be receiving positive feedback about how happy, prepared, energetic and supported the squad is feeling.  The culture is strong and that comes from you!  We have great people around us, great partners supporting us and new athletes wanting to join us all the time.  We couldn't be more grateful of (or happier being a part of) the TA Family right now.
We are proud to be achieving such great results for all our athletes.  To ensure we can continue to provide you with such exceptional service, we'll be increasing our fees on all our coaching options, effective 1 December 2018.  For several years, Tri Alliance has absorbed the rising overhead costs, doing everything we can at our end to bring you great value at very reasonable prices and help stretch your hard-earned dollars.  We will always continue to make this effort, but recent times has seen more pressure to expand our services, to accommodate more athletes at sessions, to build systems and increase coaching staff.  With the growing overheads of the business and a price freeze on membership for the last 5 years, it is time to increase membership across the board.  Of course, our decision is not made easily, and we would not increase prices unless absolutely necessary, but we are confident you will recognize that Tri Alliance is still great value, and we appreciate your support.
To place our membership packages into perspective, refer to the table below to understand what you will pay per session: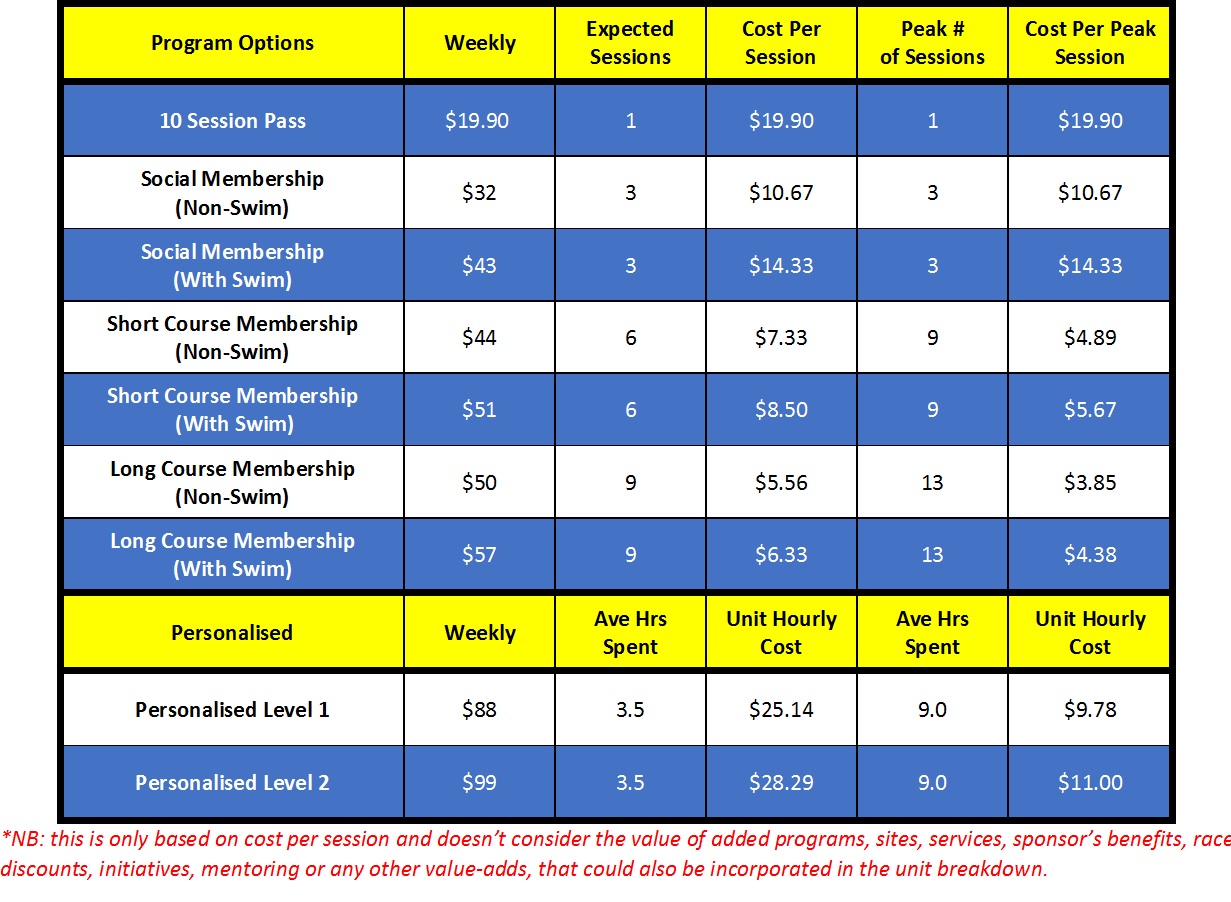 NEW & RECENT INITIATIVES
Never one to rest on our laurels, we work continuously behind the scenes to provide our athletes with the best of everything.  We have been able to secure some long-standing, major partners under our brand and also currently have projects that are in the final stages, all aimed at further extending and increasing value to our athletes. 
Athlete Benefits
Giant/LIV Bicycles – 20% disc at Giant South Yarra on bikes and accessories

Mizuno – 20% disc at Sole Motive on all Mizuno footwear

Orca – 20% disc from Orca on all wetsuits and accessories

GARMIN – 10-20% disc on Garmin Devices and Accessories via our TriShop

Lakeside Sports Medicine – 10% disc on all treatments

Shotz Sports Nutrition – cheapest prices in AUS for all products

CORE – discounted nutritional plans & race-day plan

VIC Triathlon Series – 20% disc on race entries

Members discounts on social events, camps and training gear

Tri Alliance Services – members discounts on Retul Bike Fit, 1:1 Coaching Sessions, Coaching Consultations

Exclusive access to Partner discounts and specials

Weekly members newsletter including training advice, tips and anything triathlon related

Tri Alliance Network – offers a social ecosystem where you can find your programs, friends, notifications, and more.

Access to members only content on our website including articles, videos and training and racing information

Use of our athlete marquee on race day – find out what it's like to hang out with our athletes! Receive free massage, BBQ, warm-up and cool down area!
Garmin
It's exciting times ahead for the TA Family, with Gamin coming on board as our latest partner.  Garmin specializes in GPS technology for outdoor and sport activities, so this means us! Their development in wearable technology is hitting new heights, so we couldn't be happier to be supported by such a fantastic brand.  TA Members receive between 10% – 20% off Garmin products* These offers are ideal in preparation to get you on to CoachingMate by the end of this year, as your training data will sync with your program data and coaches will be able to support you with data analytics from the new year!  * Discount is off RRP.  Athletes required to have completed at least 1 month on the short, long or personalized program to receive 20% off.  All discounts will be applied at checkout only, not advertised to public, as an exclusive TA Family discount
CoachingMate2
Currently in the final stages of development, this Tri Alliance software is close to release to members.  Features include; the ability to track your training loads and volumes per day and week, over individual disciplines and a whole, making it easy to track athlete's performance; Coach and athlete communication all held in the one location to streamline communication rather than have several communication points; Better program delivery via our 4200 tagged sessions and 1400 programs; The introduction of tagged videos in sessions, addressing and educating athletes on proper technique and practices while training, and much more.
When you look at the above, you will see that Tri Alliance is not a club or just 'a squad', but it is a great deal more than that.  It is a total athlete experience, with a continued drive to give back to our members and the greater triathlon community.  That is why we're confident you'll appreciate our position and recognise that our new pricing structure is still more affordable and of better value than any other competitors in the market.  We'll be rolling this out to new athletes from November 1, however, we wanted to give you notice of these changes, as a thank you for being an amazing athlete.  This increase will enable us to continue to provide the quality of coaching service and breadth of training opportunities you love.  If you have any questions about the price increase or our coaching packages, don't hesitate to get in contact with me directly.
Ollie Allan
Director – Tri Alliance
1300 680 874
Ph: 0425 731 036
E: [email protected]