Hi champs!
Again, thank you for letting me be one of the TA Ambassadors in 2018. This is very special to me.  Now, please let me introduce you a bit more about the person who I am J
Who are you, mate?
So… as some of you already know, I'm originally from Sao Paulo (Brazil) but I lived most of my life in Recife*, a city in the Northeast area of Brazil. Recife is a very beautiful (and old) city with a great carnival party**, the most successful and innovative digital and cultural cluster (Porto Digital) of the country and, plenty of fantastic warm beaches***. I was very lucky to be raised near the beach, surfing and diving almost every weekend. I'm vegetarian. I love tattoos, beaches, parks, art galleries, books, music and nature. I completely love nature! I also [really] appreciate and value simple things in life: the cold sun early in the morning, blue skies, swimming in the sea, laying down in grass, finding/observing bugs, flowers, animals, trees. And, I always [always!] try appreciating these things. Daily.  I'm also very connected to my family. They mean the world to me.  I believe I don't need much to be happy. My formula is simple: appreciating simple things in life + family + friends = happiness. These fill my heart and soul.
Great, what else do you like doing, Amigo?
I started diving in 1999 and became a diver instructor in 2012, having dived over 800 times so far, in various countries/ oceans. I absolutely love the deep blue and the marine life. So, whenever you feel like being adventurous, please, let's go diving 😉
Oh, interesting! Have you ever worked, Eddy? It's good to have some responsibility some times, buddy.
I was always devoted to studies. Always! I'm addicted to learning! Mum and Dad constantly encouraged my siblings and I to read/study a lot. Without putting any pressure on us but with great examples and opened conversations about it. After being gifted with my first computer when I was 13 years of age, I decided exploring [deeply] that new world of possibilities. At that time, I learned, by myself, how to build websites, how to develop programs for Linux/Windows and, naturally, how to hack systems (I don't do that anymore). I got passionate about technology quickly. A few years later I decided doing my Bachelor degree, Masters and PhD in Computer Science, always focusing in artificial intelligence. I'm very passionate about everything I do and in 2013 I was lucky enough to be awarded the best PhD thesis in Brazil, according to the Brazilian Computer Society. That was an unexpected/unforgettable outcome from my research 😀 When that happened, two things came to my mind: "Mum and Dad, many thanks for showing me the way." and "OMG. I love what I do! I feel like hugging the planet right now! #gratitude". Anyway… I truly believe every single person in the world has something to learn and something to teach and, I'm the person who I am because of those who surround me daily with inspiring stories, experiences and examples. I think we can't reach anything in this world alone. #ThanksFolks
Okay, you're a nerd. I got it. Why Australia?
Soooo, that's how I ended up moving to Australia in April 2014. The University of Melbourne brought me here, not the country J I came here to do my post doctorate at the School of Computing and Information Systems. I'm currently tutoring/lecturing a few subjects at that school, supervising Master's students and doing research on natural language processing, machine learning and learning analytics. I love technology because I'm constantly challenged to learn something new.
You are such an academic – translation: boring person! boo
I'm not only an academic and, parallel to my studies, I worked for 12 years as a senior system engineer and technical consultant in the industry, in international projects together with Motorola, Samsung, Fiat, Compal Electronics and Gemalto.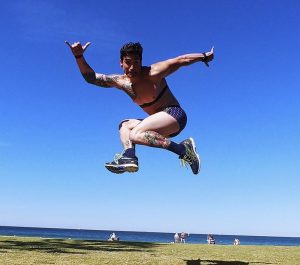 Can we change the topic, please?
My journey into triathlons started in February 2017, when I finally decided to buy my TT bike. However, I did sports my whole life. I love exercising outdoors and I love challenging myself so triathlon was [is/will always be] a perfect match to me. Triathlon became a long-term/lifelong [ongoing and self-motivated] pursuit of well-being/training/knowledge for personal reasons in my life. It became my way of keeping a healthy mind/body, my therapy.
I'm also genuinely happy with my mates' achievements in this sport (it's so inspiring). I love when I see other people succeeding in triathlon and/or in their personal lives. I really care about people (and I feel lucky/privileged to be surrounded by so many beautiful human beings/athletes in this club).
This year I'll be racing three 70.3 and a full IM and, I'm very excited about it.
"I love the feeling of anticipation that comes from having a huge, scary event on the horizon; in fact, that's when I have a sense of living life to the fullest." –Kimberley Chambers.
So, in short, I'm a coloured scientist that does triathlon and loves living life to the fullest. 😉
And… What can we expect from you as one of our ambassadors?
I really expect to get to know you better, to support you with the training sessions/races, to promote the culture of our club among peers and to have fun with you all. We should not forget that we should have fun during our journeys.
I believe in all of you! ALL OF YOU! You are truly great references of human beings and athletes to me.
Anyway, my friends, during this process when the situation is good, enjoy it. When the situation is bad, transform it. When the situation cannot be transformed, transform yourself.
Please feel free to come chat with me at any time. I'll love to talk to you.
Eat some fruit and share your love. Peace!
Eddy.
*If you are curious about Recife, you can check this short video about the city: RECIFE 
**If you have no idea about the carnival in Recife/Olinda, you can check this video: CARNIVAL
***Please, have a look at this beach in the backyard of my city 😀 BEACH