Each year, at the Tri Alliance End of Season awards night, we like to recognize those athletes who have excelled across the season.  Our Best Newcomer Award is presented to an athlete who started with Tri Alliance in the last year and is relatively new to triathlon racing and training. This athlete has shown dedication in their training with the aim of improving themselves in swim, bike and run. This athlete is willing to listen to Coaches, take directions and advise and openly supports the Tri alliance Way. Our Team Player Award is presented to an athlete who openly supports the 'Tri Alliance Way'. The athlete consistently displays a positive attitude, is encouraging and supporting of fellow athletes, leads by example and helps contribute to the successes of Tri Alliance through their own initiatives and motivations. Our Ambassadors caught up with out recent award winners to learn a little more about these go-getters.
When did you complete your first triathlon?
I completed 2 races in 2016 before joining TA in November last year. I decided to give them a go because at the time I had a few running injuries so I had done a bit of cross training and thought why not!
How did you come to join TA?
I decided I wanted to give tris a go. I had been running competitively since finishing school but my last few years I was sidelined with injuries. I had come to realise that my body may not be able to handle the 7 running sessions I had always completed. With Ollie's guidance I have learnt that completing 3 quality running sessions a week rather than everyday, has enabled me to stay injury free (fingers crossed). Slowly the riding and swimming sessions are becoming something I can concentrate on and look to improve on rather than just seeing them as  'cross training sessions.'
We know your first season with TA was very, very successful, tell us about it!
First of all moving squads and coaches was a new experience for me. I had been running with the same coach since year 4 and he has had a huge impact on me. But, from my first day at TA I knew I was joining something very unique and that I was going to love it. I remember clearly, turning up to Monday night swimming and feeling a little nervy, Steph walked straight up to me and had a huge smile on her face and Bondy was there to welcome me and assure me I could relax and just enjoy the night. TA are some of the friendliest group of  people, there are still many of you who I haven't met properly but I find whether at training or on race day everyone's always so welcoming and the feeling of support is something pretty special.
For my first season I decided to just concentrate on the sprint distance in the 2XU series. I competed in the last 4 races and was surprised to find out a few weeks before that 1 of these included an Olympic. I didn't really know what to expect but I quickly found out it was very different to a track or cross country race, and that girls can be very aggressive in open water!! Despite still not being able to master transition, I was happy to take series winner for my age group. I am already really excited to plan out a few races and set some goals with Coach Ollie for next season, and see where I can go in this crazy sport that I'm loving.
What do you do when you're not swimming, riding and running?
I am currently in my 3rd year of physio, I study in Albury but spend most of my weekends home in Melbourne. The past 2 years I have been working at Richmond FC and this year I have been working along side the head physio on the new women's program which has been really exciting. When I'm not studying, working or training you can usually find me at a cafe somewhere, recipe testing, catching up with friends or hanging out with my dog (I am definitely a crazy dog person!).
Tell us about your swim, ride and run background.
During my school years I was always involved in cross country and athletics. I went away with friends competing on athletic tours and in year 10 we qualified for the World XC Championships which was an amazing experience. After finishing school I was lucky enough to compete for a college in South Carolina for a year, racing at Penn Relays and winning team conference championships. After returning home, I was still racing on the track, concentrating mainly on 1500m.
I am quite new to riding and swimming. My dad has always been very active and has competed in a few Ironmans over the last few years, so I decided to get a bike and keep him company on the occasional training ride. I have always enjoyed swimming  and would sometimes do a few laps, but this would usually be for a  recovery session or because I was injured at the time.
What are your long term goals?
My long term goals are to hopefully compete interstate at some bigger races and higher competition, but for now getting another season of tri training under my belt and learning as much as I can from Ollie is something I'm looking forward to.
Which is your favourite: swim, bike or run?
My favourite leg at the moment would have to be running. I am enjoying learning more about swimming technique and the bike, but there is something about running which makes you feel amazing. I definitely couldn't live without running!
And lastly, winning best newcomer, what does this mean to you?
I was shocked to find out I had received this award, it is very encouraging. I have been so lucky to have found the TA family, and have learnt so much in my first season. The coaching team are always there to support you, and give you feedback which is something that has definitely helped me this season, so a big thank you coaches!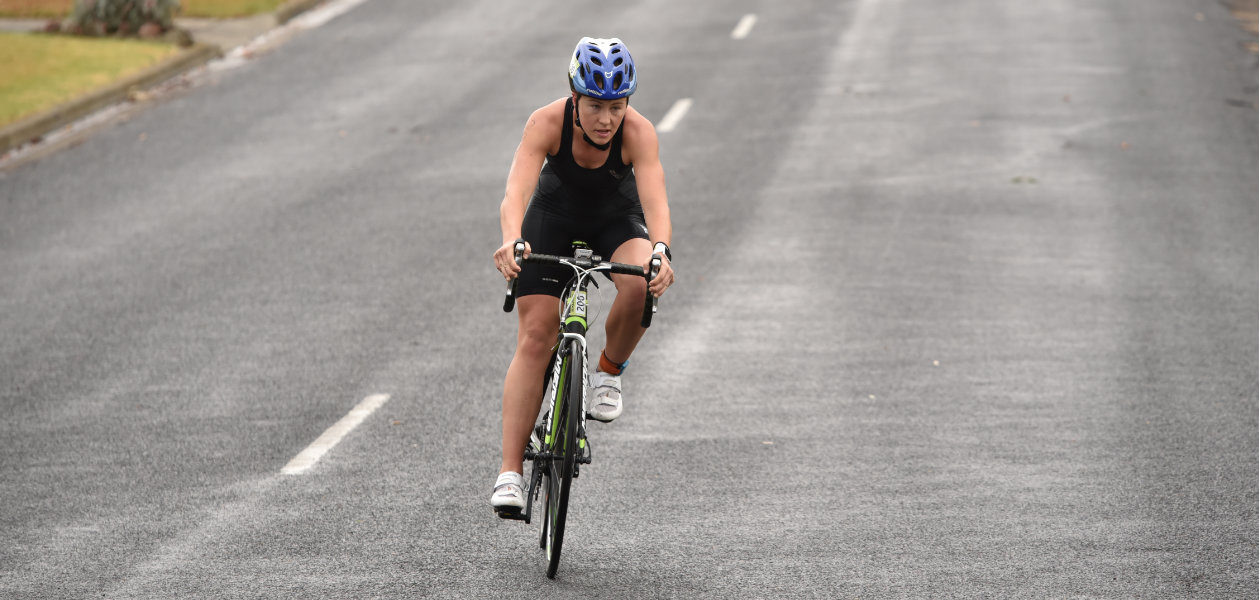 How long have you been with TA?
I joined TA in August 2016.
How did you come to join TA?
When I moved to Melbourne in 2013, my sporting background was mainly playing soccer, but an ongoing Achilles injury meant that I spent more time on the sidelines than on the pitch. I was a keen, recreational swimmer and runner, mainly just for fitness and the occasional half marathon and Olympic-distance triathlon.  Every now and then I would briefly consider joining a running club or swim squad. I would research the options on the internet, but I could always find a reason why not to take the plunge.
Then in July 2016, I stumbled across the Tri-Alliance Winter Try the Tri training program. Initially, I just thought that it could provide the springboard to my training for another couple of OD's in the upcoming summer. I wasn't even contemplating any further group training sessions beyond the six weeks program.
Everyone at TA was so welcoming and I soon got hooked on group training. It's funny how things work out when you say "yes" to opportunities that might seem daunting and otherwise pass you by. I never imagined myself joining a triathlon club, but I now feel so lucky to be part of the TA family.
What do you do when you're not swimming, riding and running?
There's a fair bit of physio / osteo / rehab that goes on too! I'm fortunate to have a flexible, remote-working arrangement as a software engineer for the Australian Turf Club.  Katrina would say that I watch a lot of footy on TV, but I would argue that this is part of my assimilation into the Melbourne sporting culture.
I love good beer and enjoy spending time trying new pale ales, brown ales, chocolate stouts and smokey porters. I enjoy live bands, but prefer small venues.
We know you are from Sydney but the UK prior, tell us about your journey to Australia and Melbourne!
I grew up in Liverpool – kicking a football all day and buying the latest vinyl from The Stranglers, Stiff Little Fingers and The Clash. I studied Computer Science at Portsmouth – still played football, listened to Simple Minds, The Christians and China Crisis, drank beer and ate curry. After graduating from college, I spent ten years working in London. I participated in my first OD triathlon in 1993 and swam the entire 1500m as breaststroke!
I left the UK in 1997 in the final year of my eligibility for a working holiday visa in Australia. The plan was to travel through South East Asia for seven months, then head to Australia to work for up to a year, then head back to the UK … but I never went back!
I settled in Sydney and joined a great football club (Dunbar Rovers FC) in the Eastern Suburbs. I was the inaugural coach of our women's football team(s) and, over a period of four years, helped them progress from relative minnows to minor premiers and grand final winners in two consecutive seasons.
I met Katrina through a mutual friend in 2006. She was living in Melbourne so we managed a long-distance relationship for some time before she moved up to Sydney. Within a few years a great job opportunity meant that she returned to Melbourne and I eventually followed in 2013.
What are your long term or next season goals?
I am striving to achieve a summer season of three HIM and would love to go sub 5 hours in at least one. Also, at the risk of publicly setting a goal that may no longer be attainable, I've always wanted to go sub 90 minutes for a half marathon. I've only tried once back in 2006, but I really struggled in the second half of the race once I could no longer keep up with the pace-setters. I finished in 93 minutes which is still my PB.
What's your secret to always turning up to training with a smile on your face?
Don't race … or leave your only race of the year until the end of the season! When you can turn up to training without any post-race soreness and without the nervous anticipation of an upcoming race, then it's easy to have a smile on your face.  We all need to train with a purpose and we focus on being primed for a race. In the past, this has often lead me to fall into the trap of ticking off one training session after another – just like completing a chore – in pursuit of race-fitness. I think my recent Achilles injury – and consequent lack of racing – enabled me to relax and train just because I love to swim, bike and (occasionally) run.
Swim, bike or run? 
Is that question based upon ability or preference?
In terms of ability – I consider myself to be an average swimmer, an average cyclist and an average runner. Lane 01 for me please!
In terms of preference – I get the biggest thrill when ocean conditions are good and I feel like I am gliding through the water in my wetsuit – it's the best feeling! (Note: I do not share the same feeling for the non-buoyancy-assisted indoor sessions at MSAC).
What a special award, TA's friendliest person…how does being recognised with the Best Team Player award feel?
I'm pretty sure the award was not for "friendliest" person. I'm still a grumpy old man at heart … but I like feeling that I am part of a team. The buzz in the TA marquee just prior to the race start at Challenge Melbourne this year was how I recollect the footy sheds before a Grand Final – hugs, high 5's and a genuine feeling that you want your team-mates to go well!
I feel it's a huge honour to be voted by my peers for the "best team player" award. And then to win – ahead of Andy, Ange and Shereen – was so unexpected. I was (and still am) shocked, but totally stoked and flattered by the award.