IRONMAN 70.3 WORLD CHAMPS
Under clear skies in Nelson Mandela Bay, Port Elizabeth, South Africa, our very own Trea lined up at Kings Beach for the start of the 2018 Isuzu IRONMAN 70.3 World Championship.  By all reports, it was a tough day on the bike and run and Trea has reflected that she's so happy that the training could all come together and she could battle it out on the course, not just physically, but mentally too!  "It just proves that each race is different and you never know what is going to happen".
RESULTS:
Swim: 31:03 | 25th in AG
Bike: 3:00:30 | 88th in AG
Run: 1:48:29 | 102nd in AG
Overall Time: 5:26:13
73rd out of 208 in her AG
358th out of 1374 females
Trea is taking such much needed r..n'..r, but first a few of her thoughts:
What a day and what a race! Ironman 70.3 World Championships, Port Elizabeth 
✅ 
A beautiful swim (with a cheeky PB), a scenic but tough cycle leg with a headwind and many decent climbs and a hot and humid run. It definitely tested me but I pushed through and gave it my all. I've never been happier to run down that red carpet and I'm thrilled to have placed 73rd out of 208 women in my age group. I don't think I've ever used so many sponges or taken in that amount of fluids in a race before, it was by far the toughest and hardest triathlon I have ever done.   Thank you for all your tracking, encouragement and love. Special thanks to Tom and Mum for being here and cheering loud and proud.  It was great to cheer on the men in their race today and continue to take in all that is the World Championships. It's been an incredible experience and I feel so fortunate to be here. 
#im703wc #im703wcsouthafrica #racenumbertattooedduetosunburn @ Port Elizabeth, Eastern Cape
TRIATHLON VICTORIA DUATHLON RACE #2
Race #2 of the Triathlon Victoria Duathlon Series was run and won in Altona over the weekend.  This race also doubled as the State Championships, so you always know the depth of field will be much greater.  Congratulations to our athletes who took part:
SPRINT 5km run | 20km ride | 3km run
Slaine O'SULLIVAN 4th in AG (Time 1:17:23 – RUN 00:23:32 | RIDE 00:38:00 | RUN 00:15:50)
Chloe TURNER 1st in category (Time 01:29:55 – RUN 00:26:12 | RIDE 00:46:14 | RUN 00:17:27)
Monty COOPER 3rd in category (Time 1:30:27 – RUN 00:23:45 | RIDE 00:49:38 | RUN 00:17:03)
DASH 2km run | 10km ride | 1km run
Nichola MUSER 4th in Open (Time 00:43:21 – RUN 00:08:34 | RIDE 00:29:22 | RUN 00:05:24)
Week T-15
15 weeks till Busso and a fair bit of frustration over the week thanks to the continued lack of activity and independence, albeit with an improvement in mobility now.  To complicate things, Megan too was relegated to the interchange bench with a painful knee issue following a bike ride(and awaiting the results of her own MRI scans).  So with us both out of action and a struggling elderly dog, home looked more like an aged care facility 
😉 At least I could return to the office last week (and graduate from only being able to wear singlets). Also finally managed to sneak in my first (easy) spin class plus two 62-floor stair-climb sessions and a few sit-ups (a challenge when you're still not allowed to sweat).  Next step: As of Wednesday I'll be allowed to sweat and do some pool walking exercises. #TriAlliance #ToBussoOrBust #IMWA
Week T-14
14 weeks till Busso and 4 weeks post surgery, finally some tangible progress last week. Thanks to some help from Megs and Snow, two rooms at home were switched around to create a dedicated Pain Room. Ample room now for the bike trainer, treadmill, elliptical trainer and weights bench – plus all the newly assembled IKEA flat packs for race merchandise 
. Since I'm now allowed to sweat, I was finally able to start some proper stationary bike trainer sessions on Zwift. Along with stair climber sessions, it was a welcome relief to pick up the intensity again. Thankfully too Megs' injury doesn't need surgery – but she has a few weeks of recovery from a painful Baker's cyst behind the knee cap. #TriAlliance #IMWA #ToBussoOrBust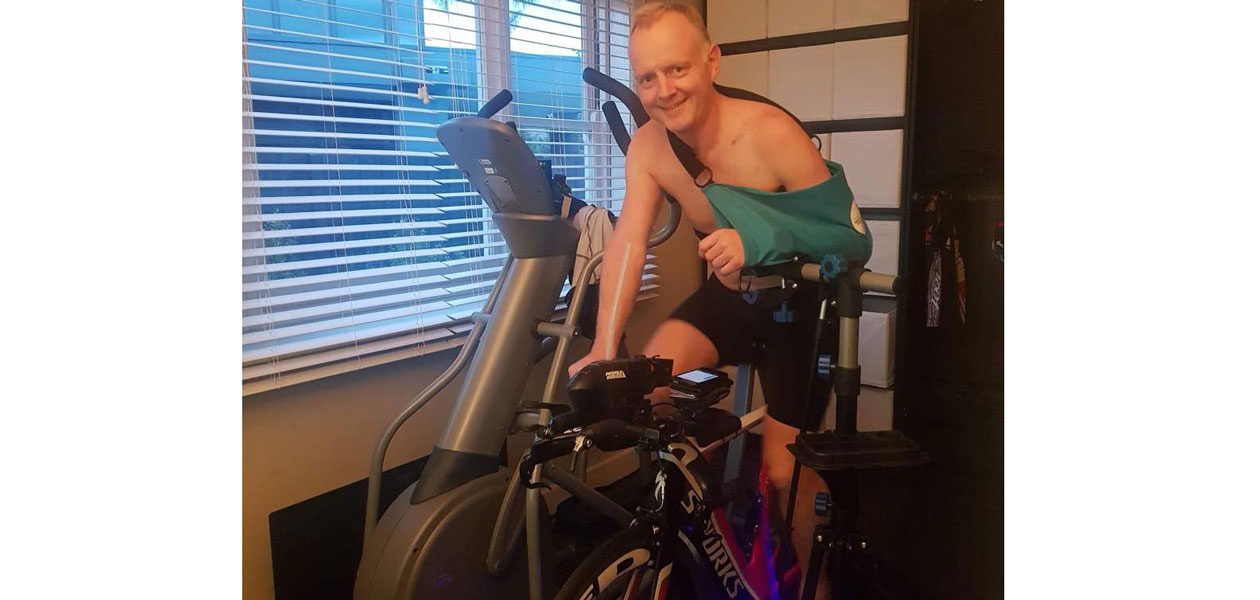 INSTAGRAM POST OF THE WEEK