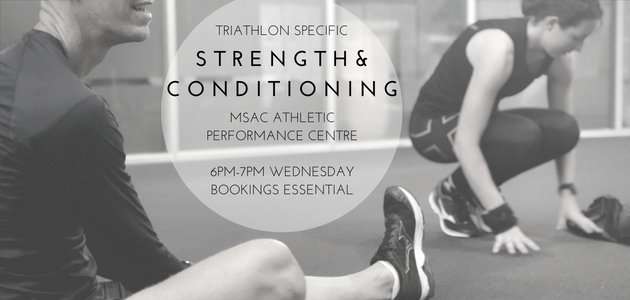 Date
Wed, 11 Jul, 2018
Time
6:00 pm - 7:00 pm
Cost
Free
Strength & Conditioning For Triathlon
Are you looking to improve your triathlon performance over Winter?  Strength training should be an integral part of any comprehensive endurance sports plan and Tri Alliance has developed proven programs, rigorously tested by athletes of all ages and ability levels.  Our functional strength and flexibility exercises have been developed in conjunction with Health and Fitness professionals, with the athlete in mind.
These sessions will be delivered by our highly qualified, passionate and experienced coaches, specialising in conditioning for the sport of triathlon. We understand the demands of our sport and will have you in the best shape possible to kick your goals.
Meet in the MSAC gym foyer, for entrance to the Athlete Performance Centre.  Please bring resistance bands (with handles), a small towel and water bottle along to these sessions.
These sessions are limited to 20 people, so bookings are essential.  * Only available to current members.