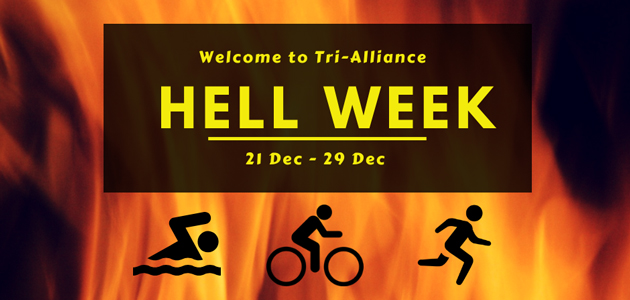 Event Attendees
No attendee found! Be the first one to book!
Next Event
Date

Wed, 25 Dec, 2019

Time

All of the day

Date
Sat, 21 Dec, 2019
Time
6:00 am - 11:00 am
Hell Week Challenge 2019
Hell Week – as the name suggests, is a week comprising of swimming, riding and running every day. In a nutshell, you'll be competing a mini triathlon every day for one week, which replaces normal timetable sessions in late December. Hell Week aims to provide athletes with a serious spike in their training, running from the Saturday before Xmas up until New Year's Eve, with the exception of Christmas Day. The trick is to do a little bit each day.  Distances are set according to abilities but the key is to where you can but stay consistent  – you'll be much stronger and ready for the bulk of the season post Christmas. More details will be released nearer the time but get it in your diary. Register Now and Good Luck! Session start times;
Ride starts every morning @ 6:00am
Run will commence after you finish the bike or,
Run can be done alternatively to swim session @ 6:00pm (uncoached)
Swim sessions will be held every evening @ 6:00pm except weekend where it will commence after the run.
For any question please use the the Hell Week Chat