Let's get to know a little more about Alan Viney…
When did you join TA? 
Just after completing the Try the Tri and competing in Race 4 this year. So early February this year approximately.
What made you start triathlon? 
In 2019 I was training and competing heavily in Brazillian Jiu-Jitsu. During training for an upcoming event, I unfortunately suffered a nasty injury to two of my ribs and was told I could not compete again for at least 6-12 months. My good friend Jo and her partner Eddy were TA members and had been telling me for a while that I should do a try-the-tri. I took their advice and signed up! I immediately fell in love with triathlon from the first training session. The swimming was tough with my ribs but I persevered. I find it immensely rewarding to train and be a little better at something each day. Being inexperienced in every discipline in triathlon, every day gives me that opportunity to improve considerably and I love that.
Tell us about a goal you are working on.
My current goal is improving in the water. Swimming is where I feel least comfortable but also where I notice the most progress in my training. I am (was) spending time at the pool, applying the technique from the dryland sessions to improve the length of time I can hold my form in the pool. End goal is 3.8k!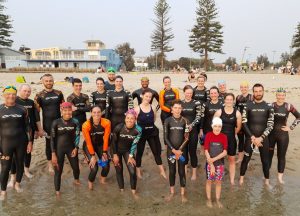 What do you do for work?
I'm a Primary School Teacher. I work at a small government school in Thornbury and teach a grade 4 / 5 composite. Most of my career I have taught Prep, Grade 1 and Grade 2. The kids in my class think I'm mad when I talk about training.
Tell us about an interest you have outside of triathlon. 
Brazillian Jiu-Jitsu, a style of grappling or ground fighting, also called submission wrestling. I came across Jiu Jitsu a few years ago and became immensely passionate. My injury (and the pandemic) has prevented me from training but I will return to it soon.
What's your favourite holiday? 
After I graduated from uni I spent some time living in a homestay in Nepal. I was teaching in a local primary school at the time and spent the weekends exploring the amazing Annapurna Mountain Range that I woke up looking at every morning. It was the best.
What's your biggest fear? 
Swimming 3.8km. That and the shared cutlery in my workplace….. and swimming through seaweed, errghh.
Tell us something that we don't know about you! 
I've worked for the Meredith Music Festival for the past 9 years in their bars department. If you're ever at Meredith or Golden Plains, come by for a drink 🙂